Top 5 '………on toast' taste sensations from your tiny wood stove- My best 5 toast'al toppings.
One of the simplest things you can make using your tiny wood stove is toast.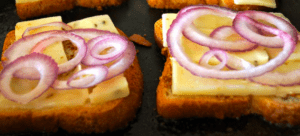 Place a lovely slice of homemade bread on a toasting fork and offer it up to your tiny wood stove. The heat will soon have toasted up your bread so that it is ready to lay down and be smothered in a tasty topping. The timeless juxtaposition of crunchy hot bread and a creamier, smoother, softer savoury or sweet topping.
MY TOP 5 TOAST TOPPINGS 
Butter and jam
Avocado and egg
Cheese and onion
Pilchards in tomato sauce
I am a Lurpak man myself but must confess to also having a weakness for nice Breton butter, probably because it tastes of holidays. Who can resist the lure of the toaster when someone has dropped a couple of slices and the aroma of toasting bread begins to excite the tastebuds. Wether you have just walked in from a night on the tiles, or a hard and long days graft at work, the best and easiest snack is a slice of toast. If you have ever been away from home then coming back to your toaster is always a great feeling. So what happens then if the electric one day does not work!? How then will you make your favourite snack??
Use your tiny wood stove to make your toast!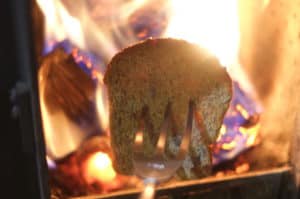 You need a nice long toasting fork or prong on which to place the bread, otherwise you will also be toasting your fingers.
You can toast the bread with the door of your stove closed or open.
If your wood stove has a stainless steel hotplate cooking top then you can simply pop your bread on the stove top.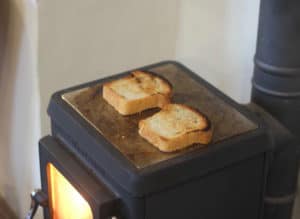 Make making toast using your tiny wood stove your next great skill. It will save you money and the planet energy. When the power goes off everyone will want to come round yours for toast!