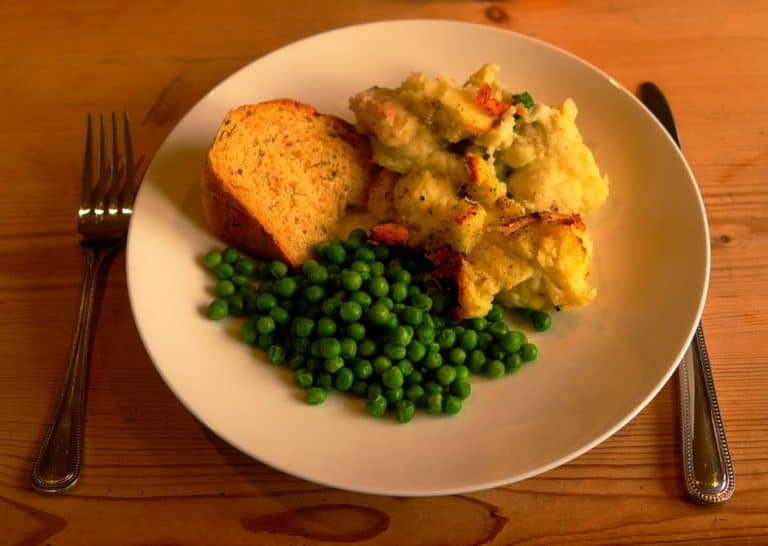 Hobbit powered fish pie!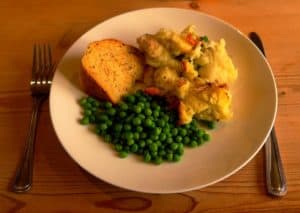 Cooking fish pie on a woodburning stove.
Locally sourced Devon fish pie with peas and carrot and thyme bread.
Fish pie is arguably one of the most comforting dishes ever invented. The perfect choice for a slightly chilly and blustery Saturday in May.
Buy your fish from your local fishmonger if possible. Ours is 'Jacksons' in Newton Abbot.
We bought 300g of fish pie mix and some kiln roasted salmon strips for £6 which was excellent value, as the pie will be feeding four of us. It was also great service with a welcoming smile. 10/10.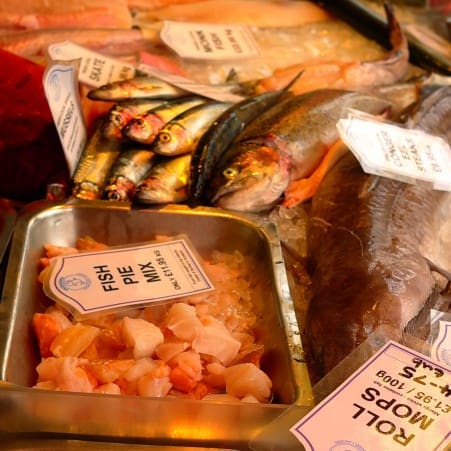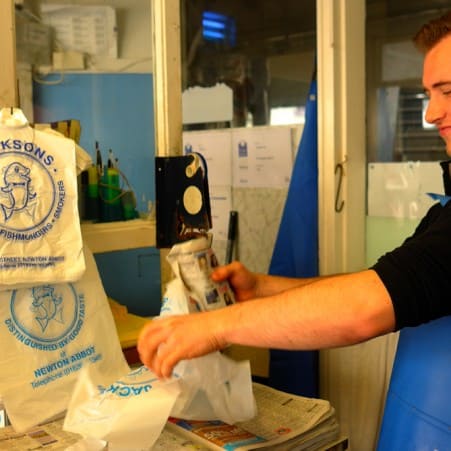 We picked up a bag of locally grown spuds from the indoor market for mashing and topping the pie.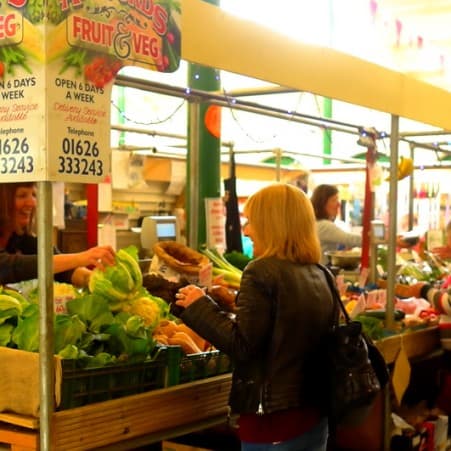 Rosie set about peeling 4 of them, one for each person.
Chopped into chunks, a dash of salt and it is on to the stove to bring to the point when they are cooked but not breaking down.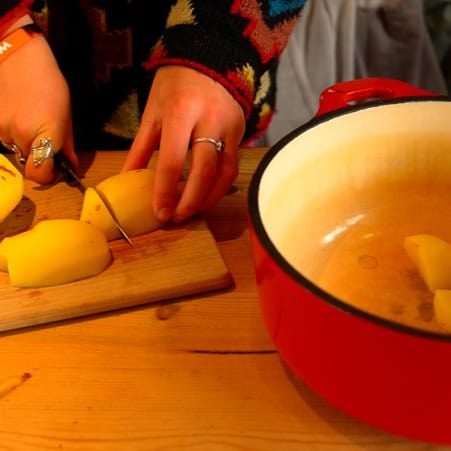 Too late and you will have soup, too soon and you may have hard lumps. A cocktail stick should easily pass through a chunk as a test of when they are ready. When happy, add butter, salt and pepper, a splash of milk or cream and mash thoroughly. Cover and allow to cool.
Add a little milk to your pan, pop in a bay leaf, a shard of lemon rind and some salt and pepper and warm slowly through to infuse the milk with flavor.
Add the chunks of fish and poach the fish in the milky liquor for around two minutes. Remove the fish and allow it to cool on a plate.
You can then make a béchamel sauce with the milky liquor.
TO DO THIS:
Melt a little butter in a small pan, and add some seasoning.
Add some plain flour.
Stir the roux and heat it through a while, stirring it all the time.
Add a little milk and whisk in. Add a little more as it starts to thicken.
Add more of the milk and you should aim for a consistency of double cream. Remove from the heat and allow to cool.
When all the elements have cooled you can assemblemange the dish by combining the sauce, chopped fresh herbs and fish gently in a dish.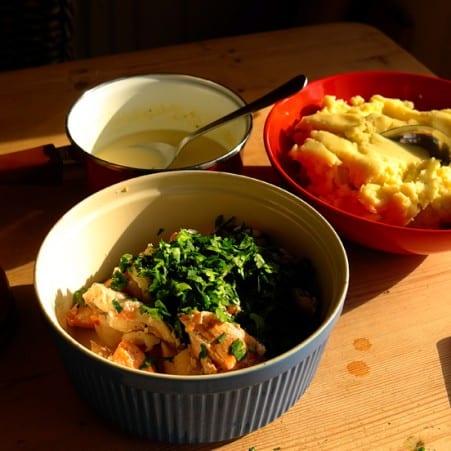 Top this with the mash, loosely heaped over the fish. Scatter morsels of kiln roasted smoked salmon around the mash. A few healthy turns of the black pepper grinder and a drizzle of olive oil and then place this in the wok oven on top of your stove.
You really need to crank up the stove at this point so open the bottom door air control on the stove to increase the burn rate. The lid of the cooking pot combined with a pair of oven gloves can be placed on top of the wok for added insulation. This should increase the oven temperature. Bake for around 30 mins.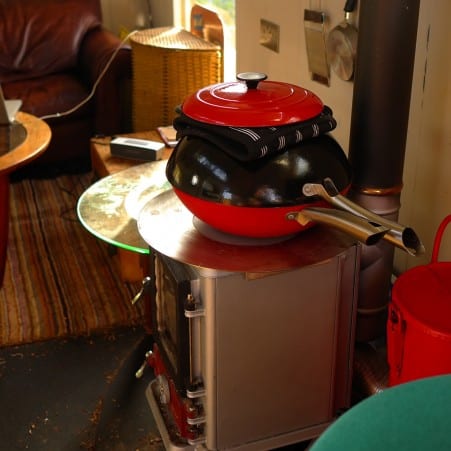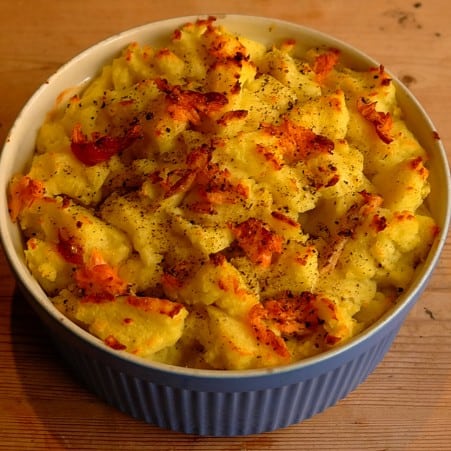 More fishy info
http://www.bbcgoodfood.com/recipes/3174/fish-pie-in-four-steps – this looks good but without the manky eggs!
http://www.mcsuk.org/downloads/fisheries/fishweek/FishWeek_FishList_Jan2011.pdf – the good fish list!
Tips for choosing sustainable fish
If you don't have a guide handy when you're choosing fish in a shop or restaurant here are the key points to remember:
The big five
Take care with the most common fish we buy in the UK such as cod, haddock, salmon, canned tuna and prawns. Due to their popularity, there are problems with all these fish and you need to choose carefully.
Only choose those that are certified. Tuna labelling schemes aren't as thorough though and while the Dolphin Safe – Earth Island Institute is the strictest dolphin-friendly labelling scheme it doesn't ensure overall sustainability. Greenpeace regularly assesses the sourcing of all top brands in their Tuna League. Sainsbury's came top of the 2011 league.
Fish in danger
Definitely avoid bluefin tuna, swordfish, skate and eel – the stocks of these are all too vulnerable. In addition to the big five there are a large number of popular fish that are best avoided unless you can be sure that they have been caught in a sustainable way (see the pocket guides for more on the specifics). These include hake, halibut, plaice, sole, monkfish and seabass.
Eat more variety
Try cooking and eating a greater range of sustainable fish and seafood. It's good to spread the load of our fish eating onto many different types of fish, not just a few. All the following get the MCS thumbs up:
Check out alternatives to cod such as coley, pouting, pollock and pollack can all be used in many recipes in place of cod, such as fish pie, fish cakes or stews.
https://www.rivercottage.net/cookery-courses/fish/catch-and-cook – River Cottage Catch-and-Cook courses
http://www.thekitchn.com/the-river-cottage-fish-book-by-hugh-fearnleywhittingstall-and-nick-fisher-cookbook-spotlight-183803 – Good Fish cookery book
http://www.lovelocalfood.org.uk – local sustainable food thing in Exeter