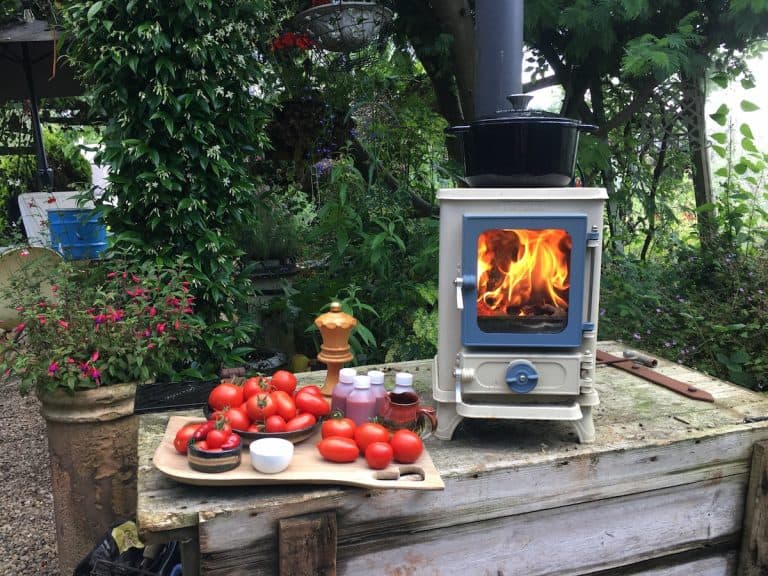 Spicy Stovetop Tomato Ketchup Recipe
Ketchup is synonymous with summer, and our spicy stovetop tomato ketchup recipe will show you how to make your very own at home!
In the video below, we'll show you how to make some delicious tomato ketchup that can be cooked entirely on the top of your Hobbit stove! If you use a rear exit kit or our rear flue wedge, then these options will liberate all of your stovetop for some wood-fired cooking! If you're planning to cook on your stovetop quite often, then it's worth checking out our stainless steel cooktop option for your Hobbit stove, but if you want to truly maximise the cooking potential of your small wood burner, then make sure you take a look at our Little Range Cook Stove!
We decided to take our tiny wood burner out into the garden to cook this recipe, and we quickly installed our small wood stove into a greenhouse, so that we're surrounded by nature whilst we cook! If it's not raining, you can always take your Hobbit stove out of your fireplace and set it up outside with some extra flue lengths if you want to cook on your small log burner in the garden! This can be done quite easily if you haven't fire cemented the flue pipes into your stove.
This recipe makes 2-4 bottles of ketchup, and it's based on a recipe from a fantastic book called Savoury Preserves by Tracklements.
Spicy Stovetop Tomato Ketchup Recipe
For the spiced vinegar (which is used to make the ketchup), you will need:
200ml of cider vinegar
5-6 cloves to taste (but you can always leave these out)
1 tsp black peppercorns
18 allspice berries
For the ketchup, you will need:
130ml of spiced vinegar (this is approximately how much you'll be left with after making the vinegar)
1kg of fresh tomatoes (plum if possible), chopped into quarters
1 large white onion
1 large Bramley apple – cored and chopped into roughly 2cm pieces (you can also peel it as well if you like)
1 tbsp of sea salt
2 cloves of garlic
Fresh red chilli, de-seeded and finely diced (to taste). Alternatively, you could also use chilli powder!
Freshly ground black pepper (to taste)
200g of cane sugar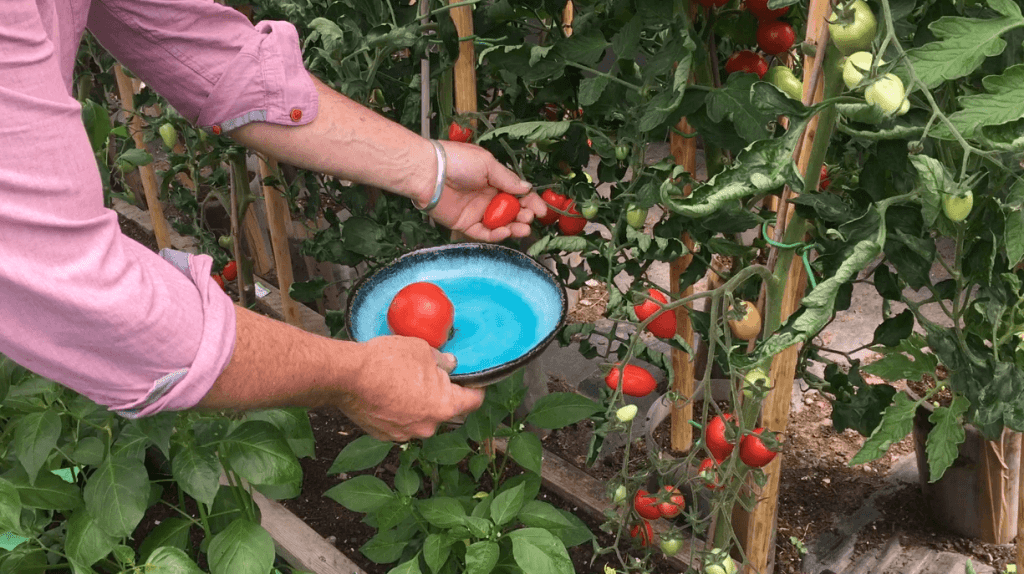 After picking about 1kg of tomatoes from our polytunnel, we started off our stovetop cooking by making the spiced cider vinegar, which is used to make to the ketchup. This can be made in a small pan on top of your stovetop, but first you'll need to make sure that your fire is burning nice and steadily, so that your small wood stove is really beginning to kick out some heat!
Making The Spiced Vinegar
To make the spiced vinegar, you'll need to put the vinegar, cloves, peppercorns and allspice berries in a pan with a heavy bottom. We've put the spices in a little muslin bag so that they're easier to take out of the pan when you're done. You'll need to bring this mixture to the boil for around 2 minutes, or until the mixture has reduced by about a third.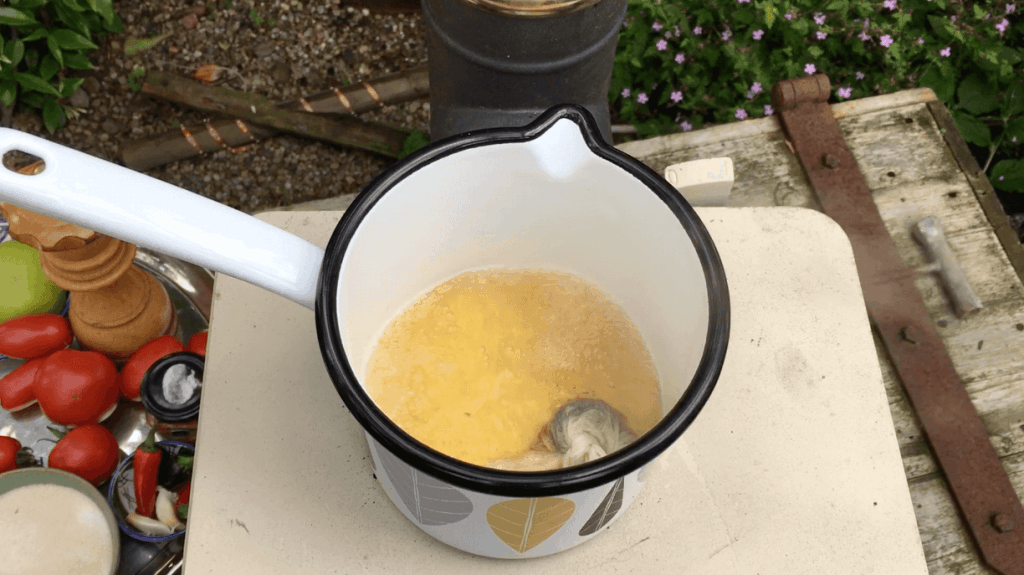 Whilst you're waiting for the spices to infuse, you can start cutting up the 1kg of tomatoes, the onion, and the Bramley apple. If you'd rather keep a watchful eye on the boiling vinegar, then you can always prepare the rest of the ingredients when you've taken the pan off of the heat, and whilst you're waiting for the spiced vinegar to cool.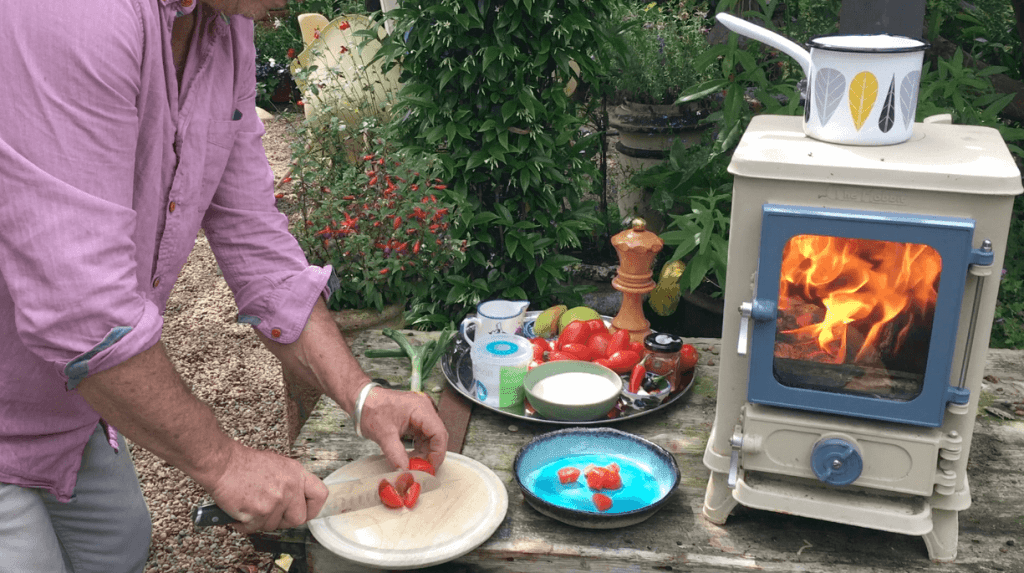 A bit of small stove advice – don't forget to keep an eye on the fire to make sure it doesn't go out or burn too fiercly!
If you feel daring, then you can grab the bag of spices out of the sizzling vinegar when they're done (like we did – not recommended). Alternatively, you could use a slotted spoon to easily remove the bag of spices from the vinegar after they've infused. Next, measure out 130ml of the spiced vinegar and return it to the pan.
Making The Ketchup
After making the spiced vinegar, you'll need to put a larger pan on your stovetop for cooking the rest of the ingredients. We would recommend using a large, high quality, enamelled cast iron pan, such as our Salamander cook pot! You can then add the chopped up onion and Bramley apple, along with the spiced vinegar, some fresh chillies, and the garlic. We also added some chilli powder which we made from chillies that we grew last year, which made the ketchup fiery hot!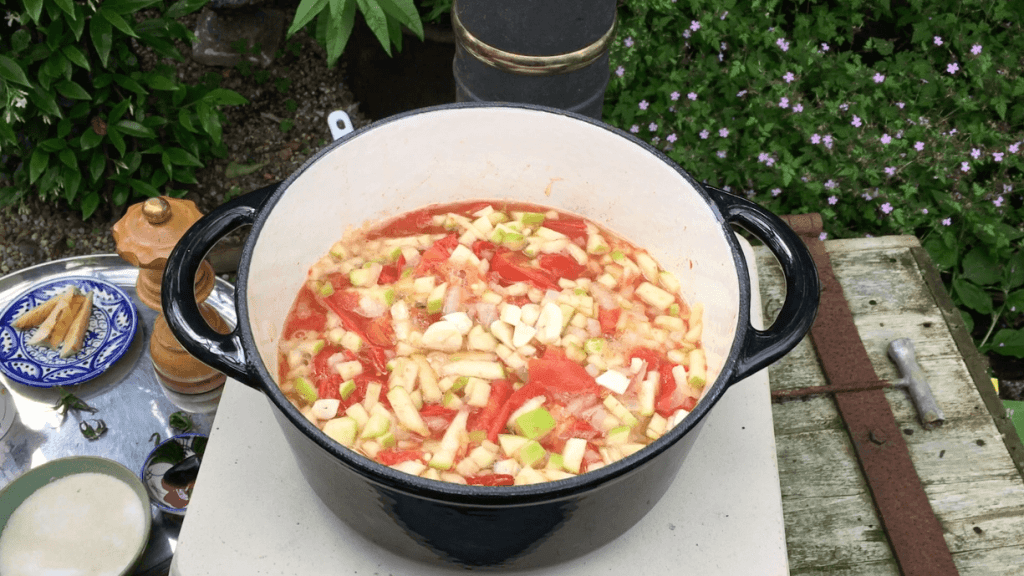 After you've added all of the ingredients you'll need to boil up the mixture until everything's soft. Whilst you're waiting, you can sit back and relax and leave your small wood burner to do its thing, or you could finish any other jobs you might want to get done!
For us, it took about half an hour for the mixture to soften, but this will also depend on how much fuel you're burning in your tiny wood stove and how finely you've chopped the ingredients! Eco logs burn a lot hotter than normal kiln-dried logs, so we'd recommend taking a look at some of the different eco logs that we offer in our fuel section.
When the ingredients have softened, you can blend the mixture before passing it through a sieve. After you've sieved the mixture, you'll need to put the pan back on the heat and add the sugar. At this point, we needed to add a bit more fuel to our small wood stove to get the fire going again, so you'll just need to check your fire and refuel it accordingly.
You can then heat the mixture up again on your stovetop, stirring it occasionally (so that it doesn't catch on the bottom of your pan) until it has reduced down to a thicker consistency.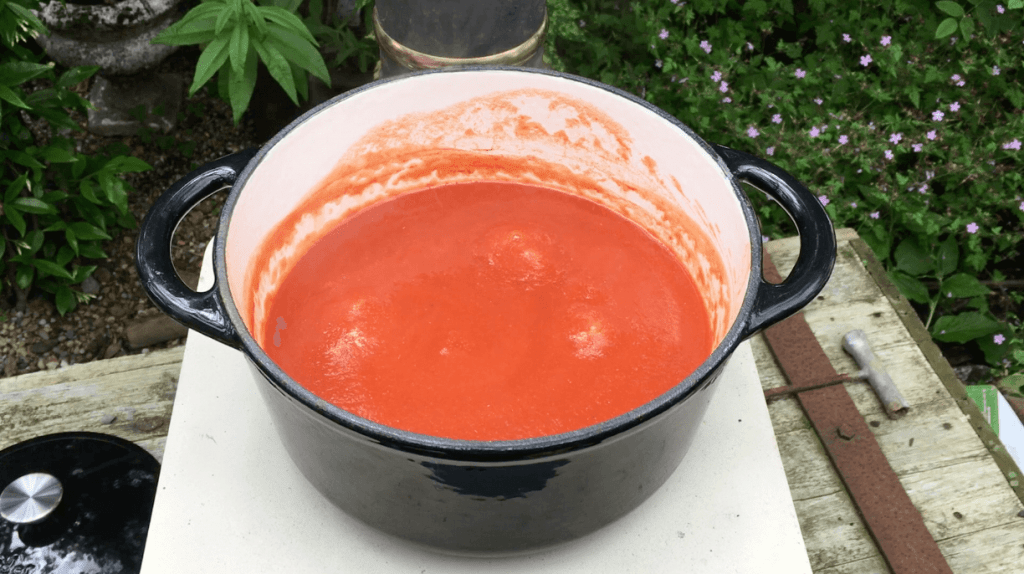 Some small stove advice – if you're looking to purchase a small wood burner that you can cook on, then it's incredibly useful if you choose a tiny wood stove that you can boil water on. Unfortunately, some small wood stove companies will say that you can boil water on the top of their stoves even though you can't! This is one of the main problems with some newer stoves, which have an oven above the firebox – the fire heats up the oven, but there isn't enough heat to boil a kettle or a pan of water on the stovetop. 
However, we guarantee that you'll be able to boil a pan of water on the Hobbit stove or Little Range, as long as the stove is well-fuelled and your fire is burning hot enough, you'll have no problem at all boiling a kettle or a pan of water on the top of your small wood burning stove!
Whilst the sauce is thickening, you can also prepare the bottles that you're going to decant your ketchup into. But don't forget to keep an eye on how your the fire is burning! The bottles will also need to be sterilised, and you can do this by following the instructions on the packet of the sterilising tablets that you've chosen to use.
We dissolved 1 tablet in 4 pints of water, before submerging the bottles, the lids and the funnel for a good few minutes. Make sure you've thoroughly rinsed the sterilised parts in some cold water before you bottle up the ketchup, as this will prevent it from having any funny taste! 
After reducing the mixture by about 50%, we added a final bit of seasoning before bottling the ketchup up using a jug and a funnel.
And there you have it! A spicy stovetop tomato ketchup recipe which can be made entirely on the top of your small wood burning stove! Having homemade ketchup is great for summer barbecues and fish and chips, but you can also add it to chilli or bolognese for a rich and delicious tomatoey flavour!