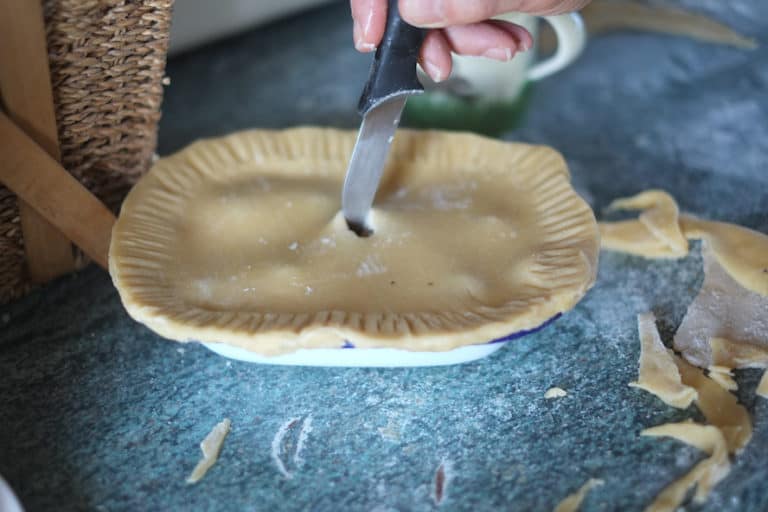 Steak and Devon ale pie – Powered by the Salamander small wood cookstove.
I just used my small wood cookstove to make a delicious steak and Devon ale short crust pastry pie. Firstly, I fried of the beef with a little olive oil on the stove hotplate. This initial sealing of the meat gives the beef a little colour and added flavour. Use a heavy cost iron pot for this if you can. Add a little seasoning (and even some crushed garlic and chilli flakes for 'seasoning' with even more punch.) Then add the ale. We used a local brew form a brewery only 2 miles up the road handily! It frothed up like hoppy pyroclastic flow of beer and we then reduced the mixture down on a slow slow simmer for a few hours.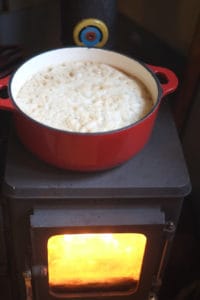 You can also leave this mix to cool and then use for making short crust pastry pies. Again you will need to have an oven option on your woodstove. My little woodstove cooking range has been designed with baking in mind.
To make short crust pastry, use a 2/1 mix of flour to fat. Crumb them together and then combine them with an egg yolk and a little water. Bring it all together into a ball and then leave this to chill for around an hour. It can then be rolled out and the pie tin can be lined after the pie tin surfaces have been coated with a little melted butter to avoid the pastry sticking. Dusting with flour can also be used to achieve this.
Line a dish with your pastry and then pour in the lovely steak and gravy after it has been left to cool right down. Place another layer of pastry over the top of your mix after just adding a little brush of egg wash around the edge of the pastry in the dish. You can then seal the edge by pressing it around with a fork. Trim away the excess with a knife. Make a little cut in the top for the steam to escape and then egg wash the top before popping in the oven.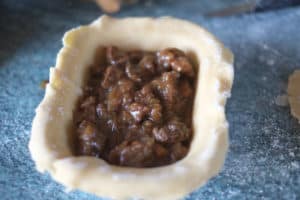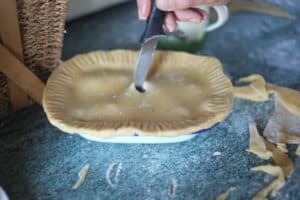 The oven needs to be at the high end.
If you broke down woodburner cooking oven temps to 3 sectors
0-50 LOW
50-150 MEDIUM
150 + HIGH
A normal oven temp for cooking short crust would be 200. So you will need to have your oven close as possible to this temperature for best results.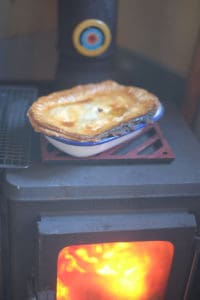 The aroma of pastry cooking on your wood burning stove is certainly a hygge sensation. Even more so if you think your glass is half full.
I have been an accomplice to my own murder. My chest aches along with most of my joints and without doubt if I persisted for any longer with my current lifestyle my long and even middle term prospects would be bleak.
My weight today is 226.2 pounds so what better way to start my uberhygge diet than with my perfect uberhygge food. Back to work is good and bad for all the reasons we all feel. It is the same feeling we had when we returned to school after the holidays. Maybe if reminissing about old anxietys when overcoming fresh ones is a type of hygge? Who knows, but the goal is a broader smile with longer term health and less anxiety generally, rather than an ever broadening middle and increased blood pressure.
(When I made this first time on my stove I split it between the two dishes and saved my pie for a lunchtime special!)
Whilst eating your uberhygge food you could listen to some excellent Radio 4 programmes all about having more hygge in your life