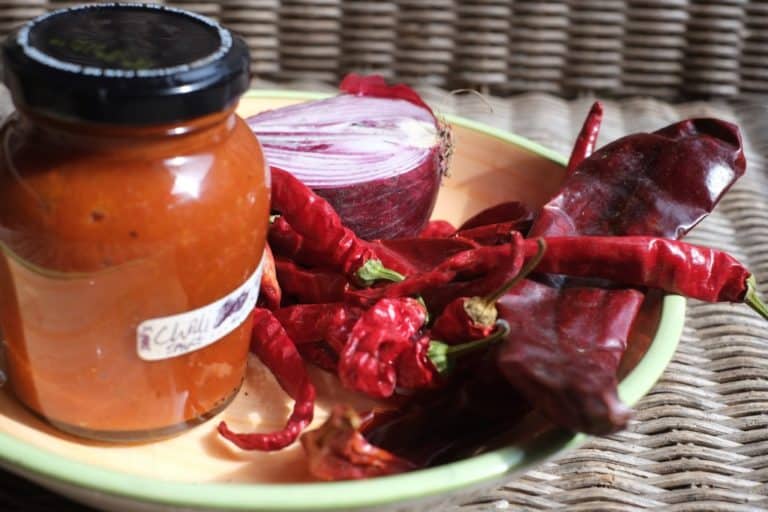 Stove top Chilli sauce – Hot stuff from the Hobbit kitchen
Chilli sauce is the perfect sauce to have bubbling away on your wood stove as it keeps you warm. The great way to store a little heat for later as your chilli sauce can be jarred up and will keep in the fridge for a week.
Chilli sauce is brilliant when spooned over nachos, cheese on toast, or anything you think needs spicing up.
You will need the following;
some toms about 3 or 4 depending on size, or a jar of toms, or tin of toms.
You can reduce it down from whatever toms you choose.
some chillies, again depends how hot they are!
half a medium sized red onion
two cloves of garlic, pinch of salt, a squeeze of tommy puree, a couple of shakes of soy sauce, a few little circles of oil
a dash of cider vinegar and a little water
a cooking pot which can go on the top of your wood burner, a spoon and a jam jar.
Method
To lightly fry off your finely diced red onion you will need to have your stove hot but then turn in the stoves air control so that this level of heat is maintained for as long as possible and during this time you can gently sweeten the onions in the few circles of oil that you swirl in the bottom of your cook pot. Keep on swinging the onions around to ensure they cook evenly. You may need to adjust the speed of burn by allowing more air into your stove, but keep it gentle. Add the toms and other ingredients and slowly simmer it down until it is as thick as you like it. Leave it to cool a little and then spoon into a jar.
Cooking on your wood burning stove is rewarding and eco-friendly as it utilises energy from your stove rather than you turning on the gas or electric hob. Cooking on your wood stove therefore also saves you money.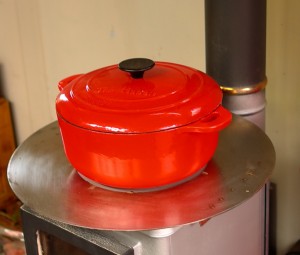 When frying off anything you may want to consider shielding the top of your wood stove with the Hobbit cook plate shield to avoid splattering the surface of the top of your stove. If you are not worried by this, then fine, no problem. The top of most stoves , including the Hobbit stove, can easily be re-sprayed periodically. Visit the stove maintenance section of the online stove shop to find some stove paint to do the job.