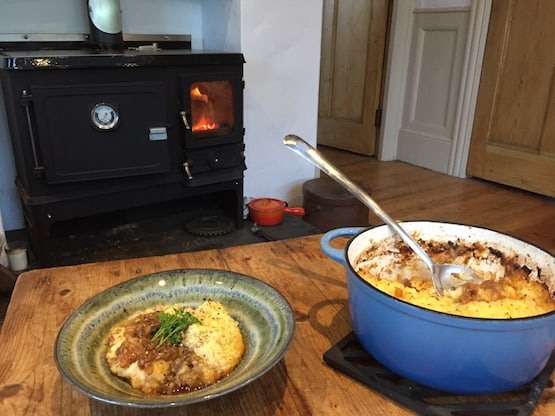 Wood stove shepherds pie and shepherds hut stove & flue kit special offer
Wood stove shepherds pie and shepherds hut stove special offer
This post will show you how to cook a delicious and unique shepherds pie on your wood stove along with a special offer for those wanting to install a stove in their shepherds hut.
Firstly, here is my recipe for a luxurious and delicious shepherds pie
Wood stove cooked Shepherds Pie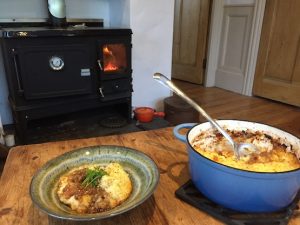 This recipe can be cooked on your wood stove in one hour or preferably you can take all day.
The longer and slower the lamb is cooked the more tender and succulent it becomes. I use diced chunks of lamb rather than minced so the meat benefits from this slower process.
To make the mixture retain an anxious quality and consistency I finely chopped onion, mushrooms, celery, tomatoes and turnip.
Firstly, the veg elements other than the toms can be slowly sweated down in a knob of butter or splash of olive oil. This can then be removed from the pan and the meat then browned in the pan. I used a carton of 700g of diced free range lamb.
Return the veg to the meat, add the chopped toms and the magical liquor stock! The stock being the following;
a dash of good Port
a squirt of ketchup
4 shakes of soy sauce
a dribble of red wine vinegar
a moderate blob of Reggae reggae 
4 crushed garlic cloves
Half a pint of water.
This mixture can then be covered and left to slowly cook for the rest of the day. A trivet is good idea to keep the heat low if you are running the stove hard. As it was not really cold I had just had the stove tickling over I could just slide the cooking pot to the cooler end of the hotplate. Later the lid can be removed and the mixture reduced down.
Peel and slice some potatoes and add them to a pan of water. You will need your wood stove cranked up a little more to bring them to a rolling boil on the stove until they are soft enough to mash. This test is best done by stabbing a slice to see if it has sufficient give. A good knob of butter, a splash of milk and seasoning and mash until smooth. Fork the mash onto the top of the mix and pop it it the oven if your wood stove has one. Or you can use a small blowtorch to crisp up the top of the pie:)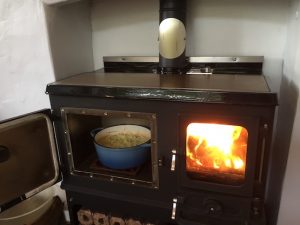 Serve and enjoy.
We have several excellent shepherds hut builders that use our Hobbit stove
https://www.englishshepherdshut.co.uk
http://www.shepherd-huts.com/image-gallery.php
https://www.plankbridge.com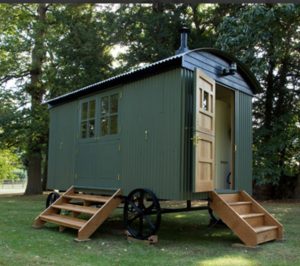 Save an extra £50 on a stove and flue kit for your shepherds hut by adding the coupon code 'shut50'.
The special offer includes the Hobbit stove with stand and a traditional shepherds hut flue kit.
http://salamanderstoves.com/product/shepherds-hut-tiny-stove-and-flue-kit-special-offer/