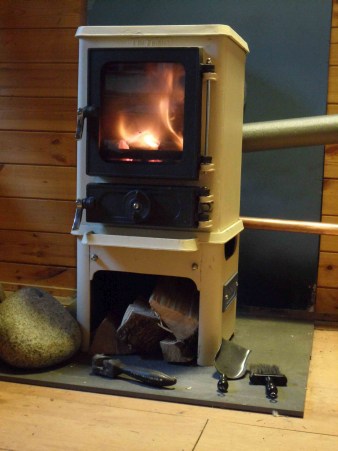 The Hobbit back boiler option
The back boiler for our Hobbit stove is constructed from 4mm stainless steel and each is numbered and pressure tested to 10 bar.  It sits at the rear of the stove and provides around 1kw of heat potential to a radiator or small water tank.
You can see a short video of the Hobbit with back boiler operating on a thermo-syphon system (one similar to a set up you might find in an off-grid setting where power for a pump cannot always be guaranteed.)
In the above thermo-syphon system the header tank was made from an old copper kettle that was found in a charity shop for £5. John expertly added the fittings and float level and this gallery shows how it was done on another kettle we found, we now have two available as bespoke shop items for those wishing to follow suit.