Here is what some of our customers have to say about our products and our customer service. Please feel free to send us a photo of your small wood burning stove with your feedback. We would love to hear from you!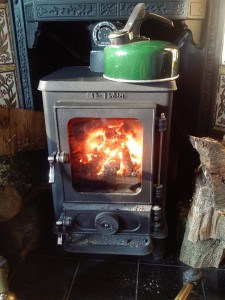 Lynn and Andrew, West Yorkshire
It's the best stove ever, it's easy to light, very efficient, burns anthracite and stays in overnight (ours has been in for three weeks now), and keeps a kettle of water at the ready for a cuppa! What more can I say, we love it, just the thing to make our Yorkshire home cosy. And the cat loves it too!
Lynn and Andrew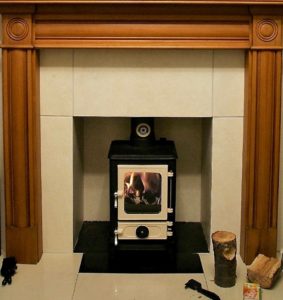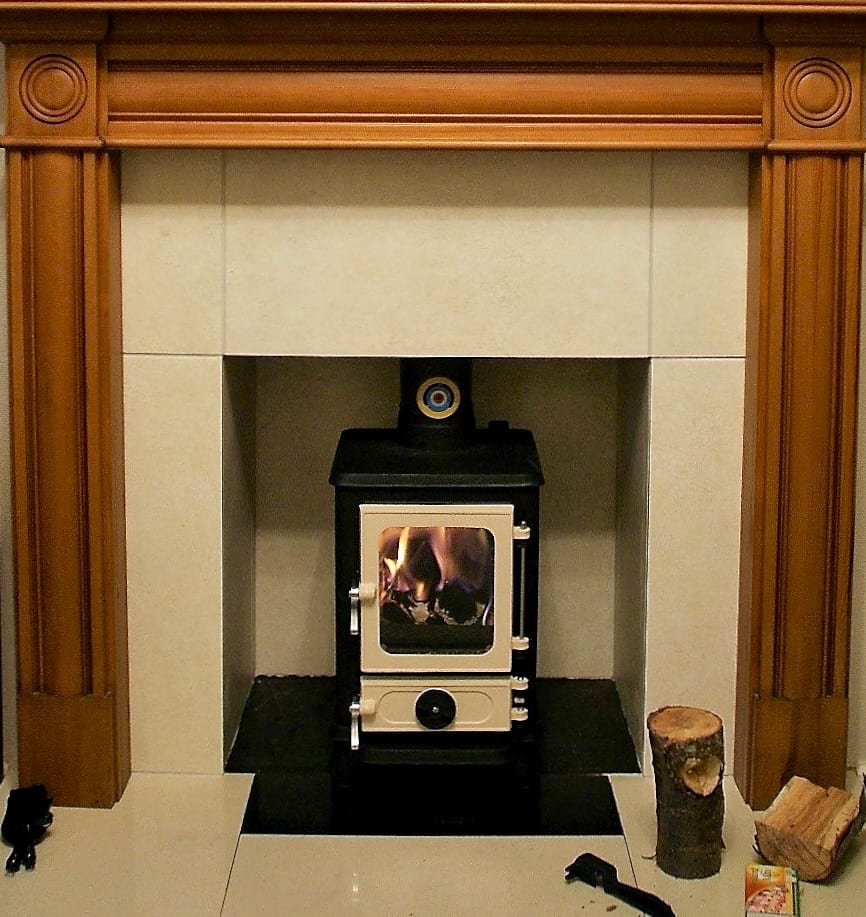 Hobbit stove review
Mark, Gill, thank you for your assistance, we are delighted with our Hobbit.
I fired it up this evening after taking all afternoon making a register plate to fit the opening. If you wish to use the photo please do.
Alan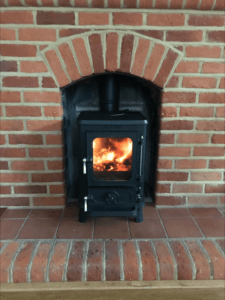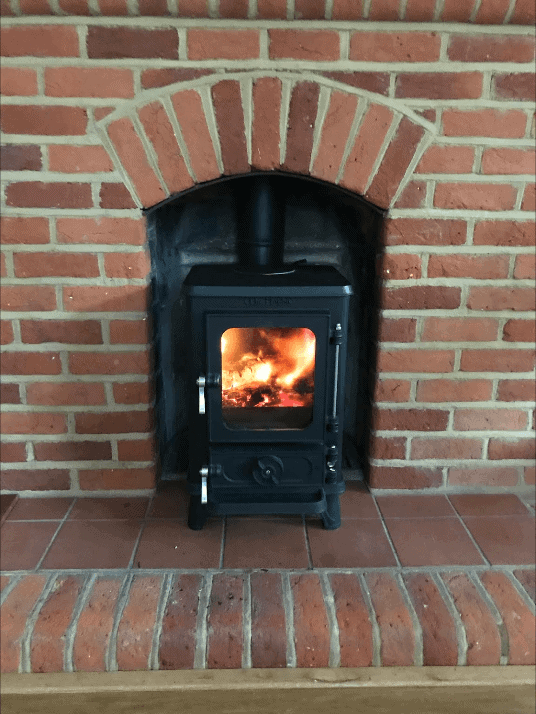 First small stove installation
Was looking for a small stove for my first self-install. Found Mark very helpful. Knowledgeable, friendly service. Stove burns well and generates lots more heat than the previous open fire. What is not to like?
Sam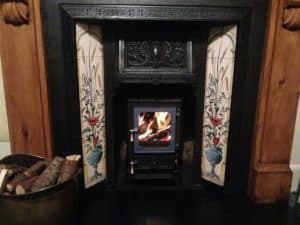 Hobbit stove fitted
We had a Hobbit stove fitted this week by Alex Reay of Flues and Fires and I just wanted to get in touch to say it is AMAZING and we love it.
We have a lovely cast iron tiled fireplace which I was desperate not to lose when we installed a wood burning stove but until I found the Hobbit on Google, everyone told me it would be impossible to keep the fire surround. The Hobbit is perfect - not only does it fit very snugly but it looks fantastic, and the blue door complements the tiles very nicely.
We are sitting enjoying a fire now and absolutely loving it! Thanks for creating such an amazing product.
Nicola Williams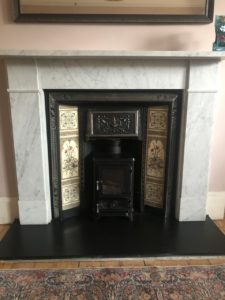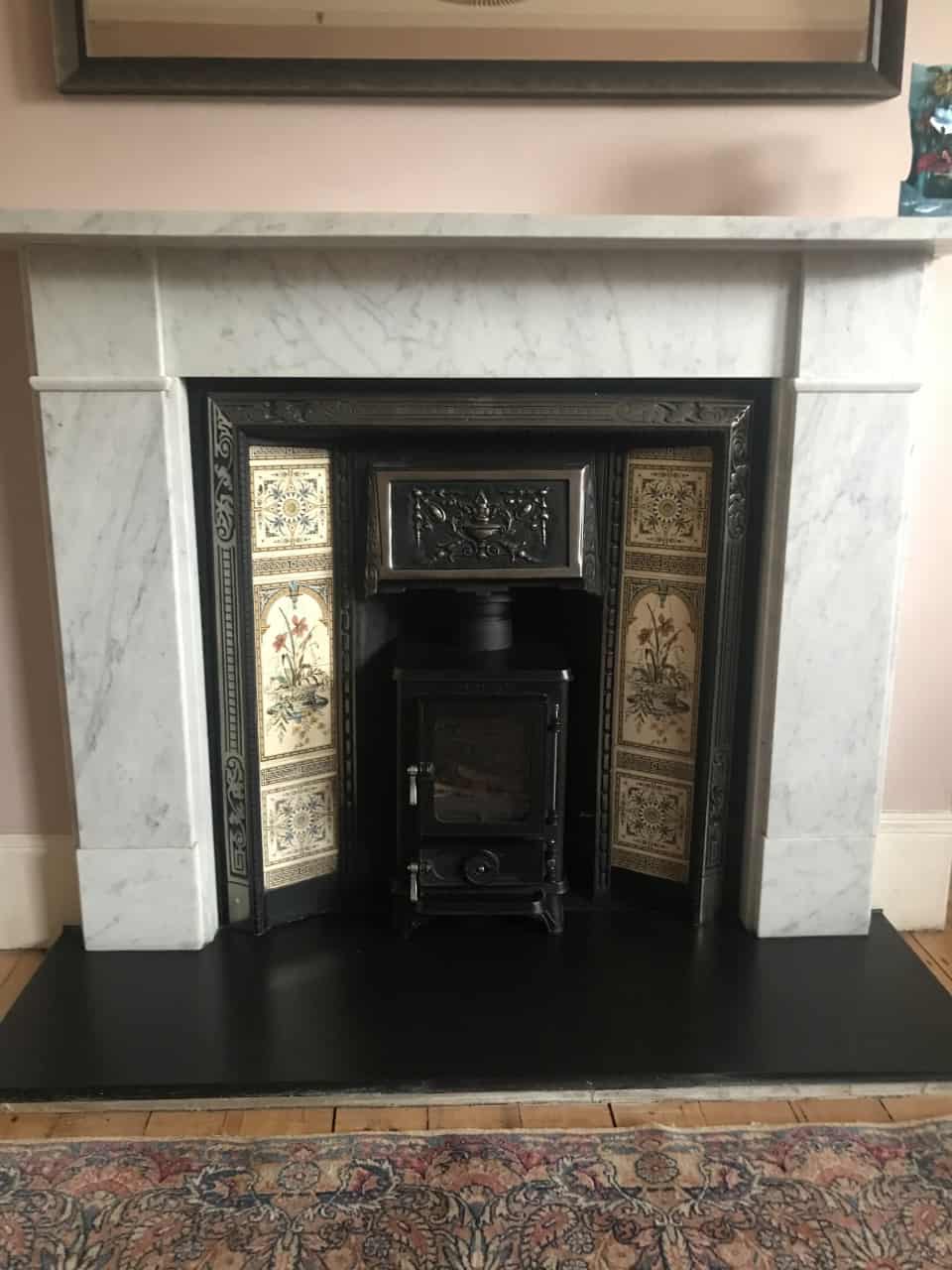 Hobbit stove review
Dear Mark and Gill, a huge thank you for designing and making the Hobbit stove! We had two different London-based fireplace companies tell us that we simply had to knock out the old cast iron and tile fireplace to fit in a woodburning stove and that there was no other option. Then we found you online.
We are delighted with our little Hobbit, which swallows up logs and kicks out a good amount of heat. Perfect for the winter!
Feel free to use this as an anonymous testimonial if useful. I will also be writing to the London-based fireplace companies to put the Hobbit on their radar.
Customer Review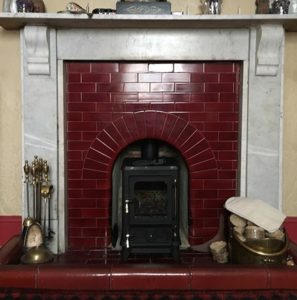 Hobbit SE installed
Just had our Hobbit SE installed in our Victorian fireplace and we are absolutely delighted with the end result. We felt passionate about preserving our lovely fireplace.
Andy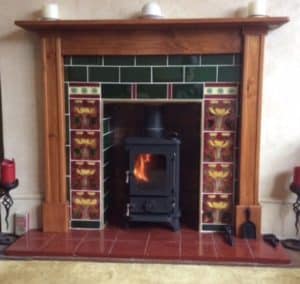 Our little Hobbit stove
I just had a chat with Gill saying how delighted we are with our little Hobbit stove, and to also thank you both for your attention to detail and excellent customer service.
Derrick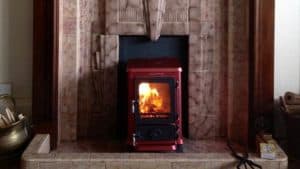 Newly installed Hobbit stove
Just wanted to share a picture of our newly installed Hobbit. Absolutely delighted with it, and so pleased we were able to retain our existing fireplace as well. Brilliant product, thank you!
Marion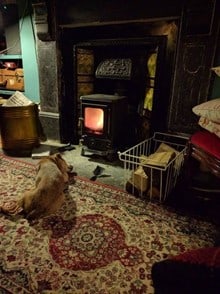 One for the pets
The stove we bought from you is really starting to come into its own as the weather cools down. Here is a photo showing how much one of our dogs is enjoying it.
Customer Review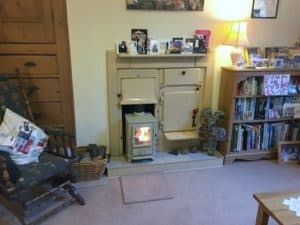 Hobbit stove installed
Hi Mark, attached is a photo of the Hobbit installed in my Yorkist grate. It's brilliant! It also throws out a lot more heat than the grate did.
Roger T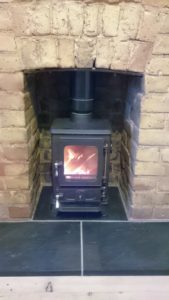 Fitted into our restored fireplace
We are very pleased with the stove and think it looks great. We restored our fireplace (it was hidden under plaster!) and the whole look is better than we hoped.
Neil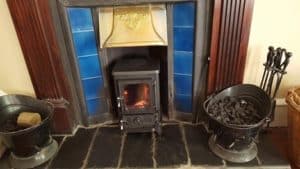 Little Hobbit life saver
We just wanted to say how impressed and how much of a life saver our little Hobbit has been. It was fitted a few months ago in our holiday home in Rhu, Scotland, which is a large open plan conversion of a Victorian house. This weekend our boiler decided it was not going to play ball, the little Hobbit has stepped up to the challenge providing heat in a very large area, about twenty eight foot by twenty four foot with a high ceiling of about eighteen foot, keeping the room warm enough for us not to use cardigans.
Alan W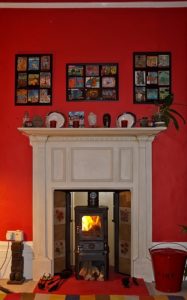 Hobbit stove review
What a fantastic fireplace with the beautiful Hobbit stove. It fits perfectly into the small space and throws out a lot of heat. I have enclosed a photo of our stove, now our pride and joy and much admired by all who see and feel the warmth.
Chris and C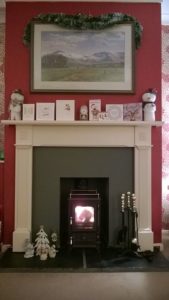 Hobbit stove testimonial
Just to bid you all a Happy New Year and to say how much we're enjoying having our Hobbit stove!
It was easy to fit with the help of your excellent 'how to' videos and we're just awaiting our inspection by building control for the certification.
The Hobbit has fitted neatly into the hearth vacated by the old gas back boiler (with a little cosmetic rendering) and never ceases to surprise us how much heat it can deliver to the point that the new condenser boiler is having an easy life, thereby saving us on gas bills too!
Everyone loves having a 'real fire' in the living room.
Philip Baird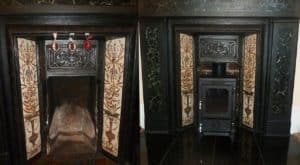 Before and after
The effect is great and we both think it's a really good stove. It suits our front room and warms the room and surrounding area nicely, so much so that the central heating did not come on this morning.
Andrew Parkhouse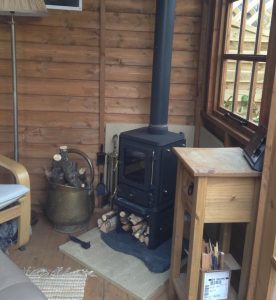 Thank you!
I just wanted to say thank you for our amazing Salamander Hobbit stove. It arrived almost exactly 2 months ago. It took me a day to install it into my small summerhouse (7' x 7' – more of a glorified shed perhaps) and I have lit it almost every evening since.
Here in the north-east of Scotland there is often a bit of a bite in the air in the evening, and we have the benefit of such long evenings being further north. The stove itself looks great and it's very well-made with some lovely details. It is very easy to light, warms up quickly and gives off a gorgeous warmth.
I find it hard to think of anything much more delightful than basking in the warmth of the Hobbit, with a cup of coffee made from coffee sent by one of my grown-up daughters for Father's Day and brewed on the stove top, in my summerhouse, on what is very nearly the longest day, listening to the birds as they settle down to sleep in the company of my wife, my cats and some chocolate. Delicious :)
Fergus Connor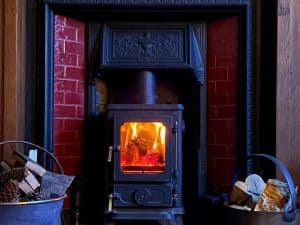 New handles
Thanks for the super fast delivery of the handles that we had worn out. Allowed us to have the first light of winter. Super cozy again!
Colin Stewart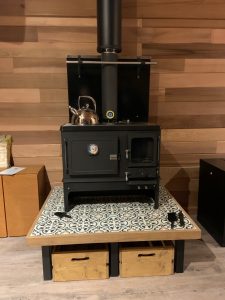 Fires installed!
Hi Gill,
It's been a while since you delivered the stoves to me. They were installed yesterday and I just wanted to pass on my thanks to you - hopefully you'll agree that they look awesome! The fitter was also extremely complimentary about the quality of the stoves.
Thanks again.
Craig Ashford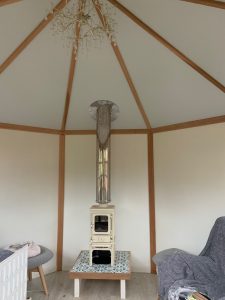 Fires installed!
Hi Gill,
It's been a while since you delivered the stoves to me. They were installed yesterday and I just wanted to pass on my thanks to you - hopefully you'll agree that they look awesome! The fitter was also extremely complimentary about the quality of the stoves.
Thanks again.
Craig Ashford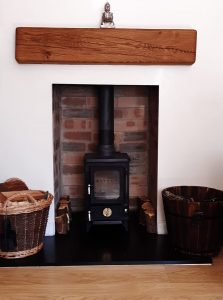 Our little Hobbit
Fabulous stove manufacturers, we love it our little hobbit.
Paddie Murphy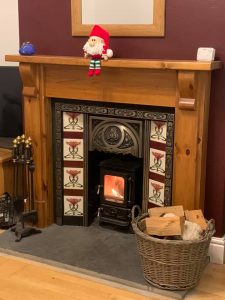 Fireplace installation
Absolutely love my hobbit!
Gillian Hartley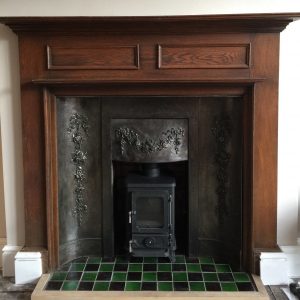 Period fireplace
Excellent little stove. Fits perfectly in a period fireplace. Very pleased with the product.
Nick Wilf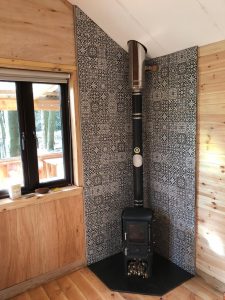 Hobbit stove in a small hut
At last we have the back of our Hobbit stove tiled, it sits on a 12mm steel quadrant that had a hole cut in the back for the direct air flexi feed.
The process from order to delivery was what we expected from Salamander, we chose our Hobbit on a friend's recommendation and specked it to yours.
Our stove has heat shields and a stand, but most important for a small hut, direct air intake, which works so well. We are enclosed by trees, but the anti downdraft cowl and flue kit that we bought, again on your recommendation, works extremely well.
After sales has been excellent. You never appear to tire of me asking questions.
Andrew Johnson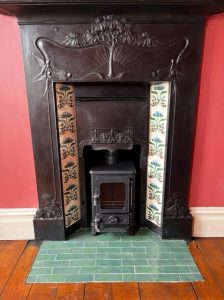 Hobbit SE
Very happy, planning to have the inaugural fire up tonight!
Greg Moor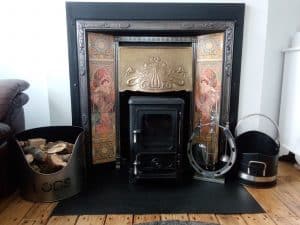 Our beautiful Hobbit stove in action
We bought a stove from you almost 2 years ago when we moved into our Victorian cottage. I wanted to have an original-looking art nouveau fireplace surround, and I needed a Hobbit stove in order to make it a purposeful reality.
Eventually, I've got around to sending you some photos of how lovely it is, to show you. It is VERY popular with the cat in the Winter!
At 4kW it heats our lounge, some of our dining room, our staircase, and our bedroom, and is really spectacular. We love it.
Danielle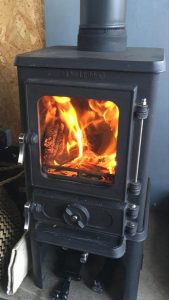 Stove still going strong!
We have been living in our converted lorry, 'Wilbur' for over three years on the stunning Isle of Skye. Your wonderful 'wee' stove has kept us snug all the while!
Paul & Michele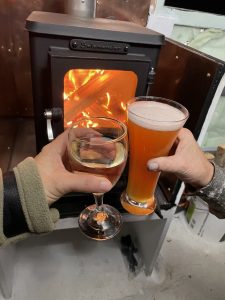 Isuzu Bus Installation
We are part way through fitting out an 8 metre Isuzu bus which we live in.
Yesterday we finished the install of the Hobbit and are sitting in the warmth this morning.
It's been a challenge as we work around steel frames and the HWC location for the wetback, and just the general compact space, but it's one part that's finally complete. We have opted to cure the stove slowly over 3 burns and are on our 2nd burn this morning.
We can see the heat filling up the bus as the condensation clears from the windows. We're in the middle of winter and it's cold and wet. 3rd burn will be this afternoon, and we should be able to crank the fire up properly tonight.
It's an amazing little beauty and we're happy we went with the Hobbit over other local options.
We're also happy with the amount of firewood it consumes.
We lit the fire at 7.00am yesterday and put the last firewood on at 10.00 pm. It didn't use anywhere as much as our last fire. It's 4.00 am as I write this and although the fire has gone out, the firebox is still hot, hot enough that you can't leave your hand on the metal.
The air temperature in the bus is still warmish. There's also no condensation on the windows, which is pretty good for winter.
Thanks for your efforts.
Mal and Shianne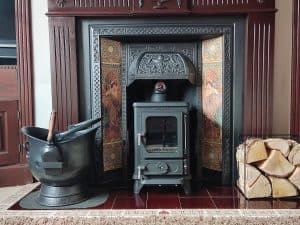 Salamander Eco Stove
I had the stove fitted into my existing Victorian fireplace, aided with the rear wedge outlet in order to make it fit. I just wanted to thank you, I'm so pleased with it and wanted to share a couple of photos.
Darren Smith
Wow!!!
Check this out - my little Hobbit… We LOVE IT! It's like it's always been here. Our lounge is 12 foot wide and 23 foot long - every cottage should have one.
Awesomeness, thank you all at Salamander.
Paul Roberts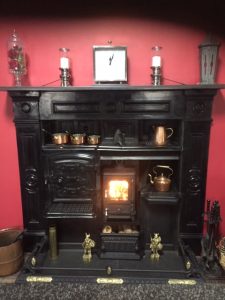 Salamander Hobbit SE
Another 2 of your amazing stove installations!
Peter Barnes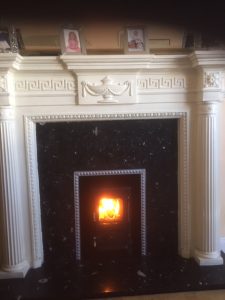 Salamander Hobbit SE
Another 2 of your amazing stove installations!
Peter Barnes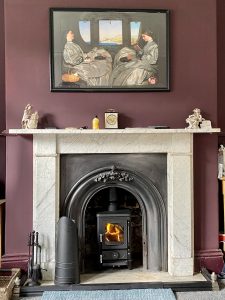 Hobbit Stove Installation
Thought I'd send you a picture of my installed Hobbit. We're very pleased and think it looks great. We're very pleased to recommend.
David Woodhouse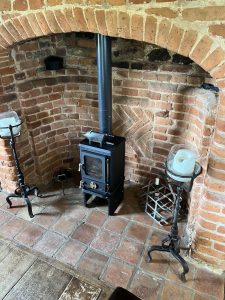 Installed Hobbit Stove
As promised - photos of installed Hobbit stove.
Really pleased with it. Thank you.
Kitchen Inglenook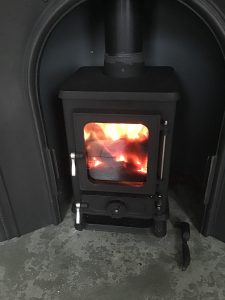 The Hobbit
Really pleased with my Hobbit.
Rachel Grewcock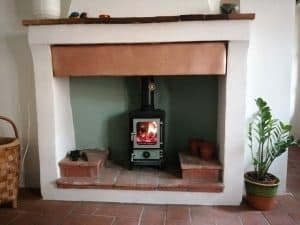 My stoves - Pisan Hills, Calci, Tuscany, Italy
I bought my first Salamander stove in autumn 2021 for the living room in my small country house in the Pisan Hills, Tuscany. I was so pleased with it I decided to buy a second this year, which now heats my small study/dining room perfectly.
Super service, communication and honesty from beginning to end with the lovely Salamander folk, I really can't fault them. These were significant purchases for me, but money undoubtedly well spent, and being able to personalise the stoves with colour was much appreciated - not an easy decision, but I chose well!
I know people who have installed wood burning stoves too big for the room/area, which is why I searched for and came across the wee Salamander stove, it's perfect for my small rooms and creates a perfect, ie not too hot, temperature. All round satisfaction. Salamander Stoves is highly recommended.
Bridget Walker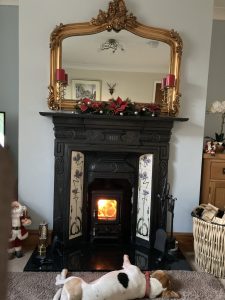 Our Hobbit Stove
Like most of your customers, we were told by stove fitters that we wouldn't be able to get a stove to fit our cast iron fireplace. As you can see, we found the Hobbit stove and it fits perfectly. Millie our dog loves it too, so thank you to Salamander.
David and Pauline Gent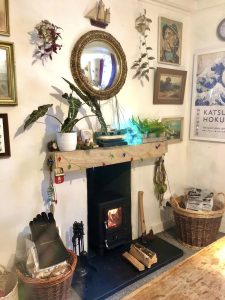 Fisherman's Cottage
Great install of the Hobbit SE by Ian & Ian at the Master Sweep in Cornwall. What a cracking stove, glad to have put the heart back in our little granite fisherman's cottage.
Jamie Soane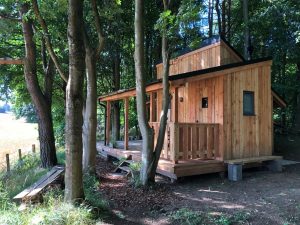 Falkland, Fife, Scotland
We bought a Hobbit stove from Salamander on recommendation. The pre-purchase sales advice and after-service have been first class, I cannot speak too highly of the team. We love our wee Hobbit. It heats the hut, our kettle and is perfect for cheese toasties. Ours is a small hut, so we took the advice of having a direct air system fitted, it works perfectly. The extra option of heat shields enabled us to site it closer to the corner. All in all we are delighted, as I am sure you would be.
Andrew Johnson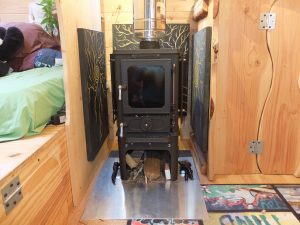 The Stove Has Arrived!
Thanks to your advice I managed to install the stove successfully, and I am very happy because with your flue kit and explanations, I was able to do everything myself easily when I have never done this before. Thank you very much!
I lit the first wood fire. The draw is perfect, the stove heats my caravan very well, and it is easy to use and very beautiful.
I have sent 3 pictures to you so you can see your stove in the caravan.
It's very nice that a stove exists which is adapted to small and atypical houses like mine! It took two years to find your stove and I am very happy with my choice. So thanks so much for everything.
Marion Alsina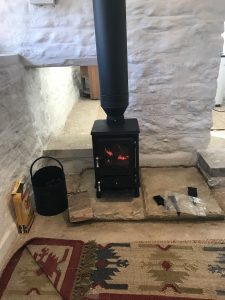 Thank you
Just wanted to let you know that our Hobbit SE stove is up and running and helping to dry out a stone building that has not been used for at least 60 years.
We are really pleased not just with the Hobbit SE but your efficient and friendly guidance and customer service.
Thanks again.
Jude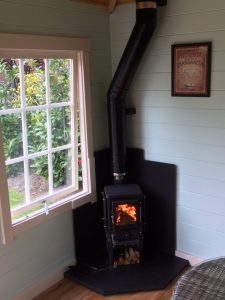 Summerhouse
The log burner is up and running and the summerhouse (and now "winterhouse") is toasty warm. The log burner means we can use the summerhouse year round, as it really is very warm.
My wife and I are delighted with the burner and the flexibility that it provides. We have already spent much time in our "Gin Shed" enjoying breakfasts, lunches and dinners and all in the warm. So, a big thank you to all at Salamander. I am very pleased with the finished project.
Stephen McGuinness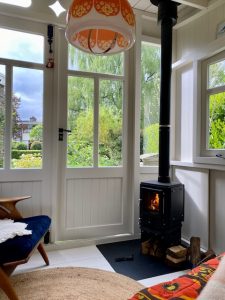 Very happy
I wanted to let you know I am very happy with my Hobbit stove!
Rozemarijn Vos
Testimonial
Just a note to say we are absolutely delighted with our new stove, the Hobbit SE. Having had various stoves in the past, this is in a class of its own.
William and Katharine Swann
The Hobbit Stove and Little Range
We now have our Hobbit stove and Range installed, and have started using them. Tiny they may be, but they really throw the heat out! So easy to control and light as well.
We have used the Little Range in our new kitchen too, and our first attempt at cooking was a great success. Thank you so much for your excellent products and the great customer service we have had throughout.
Roger and Sheralee
Bravo!
I would just like to reach out to comment on your product, which I utterly love. I love the cast iron. Once the stove is heated up it radiates heat well after the fire is out. Mostly, however, I love love love the double venting, both on the bottom and at the top. Making new fires extremely extremely easy. It's absolutely freezing here and I'm extremely toasty.
Thank you so much for making such a valuable, worthy, solid product. I stand behind this product 100%.
Also thank you so very much for putting up with my endless emails, questions, etc. I felt like I was a big bother, yet you never weaved from assisting me.
Rena Dehne
Thank you
Just wanted to write to say a huge thank you for supplying the two stoves, they are absolutely amazing and bring joy to my heart whenever I light them. I have lived in many houses, most of which have had stoves of various sorts from massive open fires, Aga's and huge ranges to all different types of wood burners and your two little stoves win hands down.
They are a joy to light.
They use so little wood for the heat output they deliver.
They are beautifully designed.
They are so easy to control.
We cook every night on the range.
They are a joy to just sit and watch.
Thanks, we love them and I will send you some pictures as we have built a lovely mantlepiece with a log storage section on either side from the pallet wood you delivered the fires on!! That is how to recycle.
Whoever designed these is a genius and knows exactly what they are doing.
Simon Cattell