BZR Woodburners
BZR Woodburners are based in Teignmouth. They are HETAS registered installers who work throughout the south west of Devon, providing a friendly and professional service!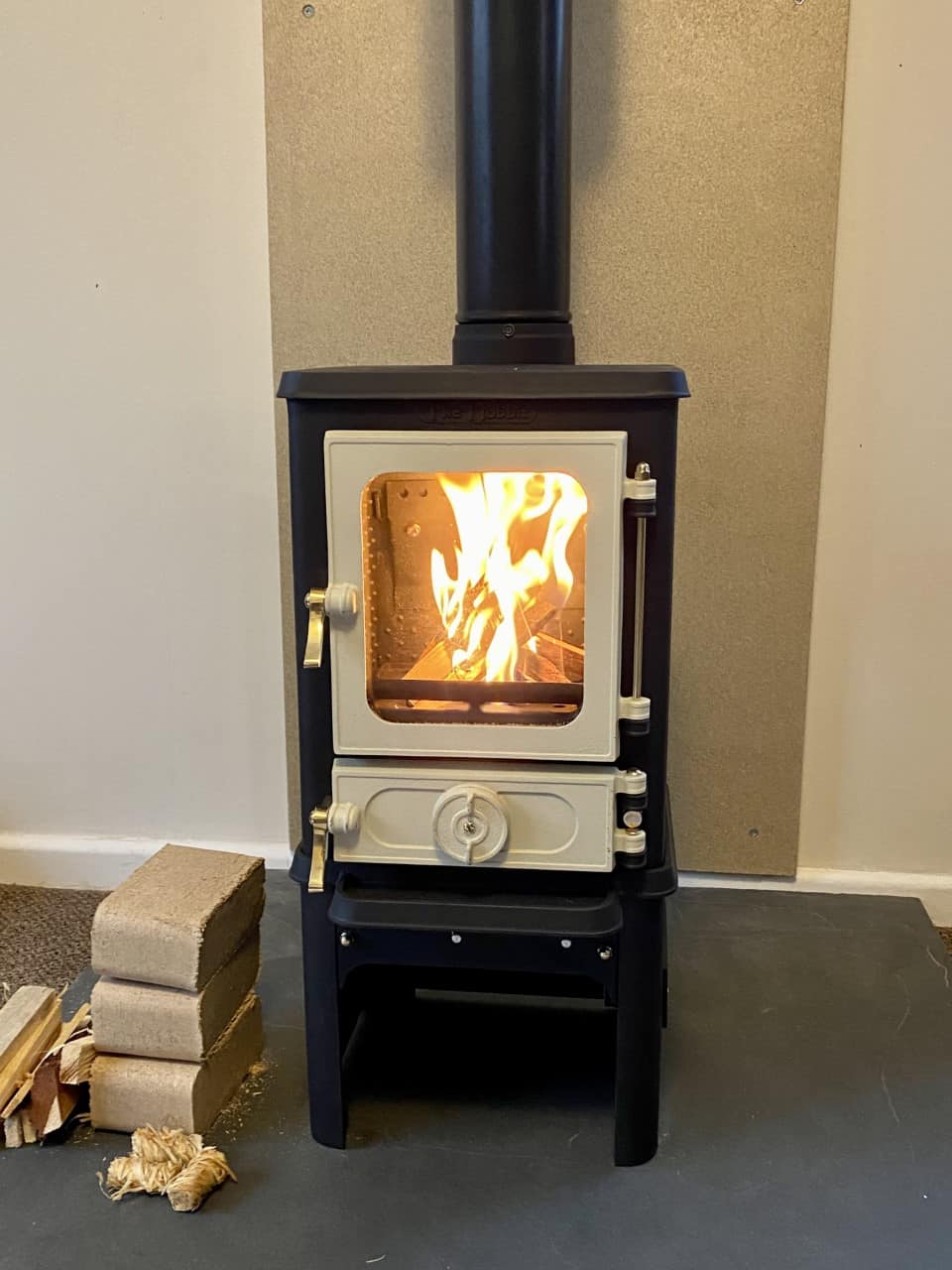 Grace works here at Salamander Stoves, so when she moved house, she could not imagine life without a small wood burning stove! Grace contacted Thomas Brazier from BZR Woodburners to arrange a stove installation. She already knew what stove she wanted – it had to be a Hobbit stove! Here, our small wood burning stove has been customised with a log store stand, brass fittings, Almond coloured doors, and an Almond airflow wheel. You can click here to see the full range of colours that you can choose from when customising your small stove.
Due to the layout of her house, a wall exit kit was the best way to get the stove installed. Grace also used our rear flue wedge to exit from the back of our tiny wood burner. This created more space for a kettle or some cookware to go on her stovetop.
Incorporating a length of 100mm/4″ single wall flue pipe enabled extra heat to be radiated out into the room, and this was cheaper than using more twin wall insulated flue parts. Our supplier Midtherm provided all of the flue parts that we needed for the safe evacuation of smoke out through the wall and above the ridge of the roof.
Tom and his colleague Tim began their work by discussing the positioning of the stove. They carefully considered every aspect of the installation and made sure that Grace was completely satisfied with where the stove was going to be sited.
Next, they laid down plenty of dust sheets to protect the carpet and any other surfaces that were exposed. After that, they brought in the tools that were required for the job, took the measurements they needed, and used a level to ensure that everything was going to line up correctly.
After sketching a hole on the wall, the pair used a multi-tool to remove a section of plasterboard, exposing the brickwork behind. A wall sleeve was offered into position before they began drilling a series of holes through the masonry, creating an elliptical hole in the side of the property.
Next, the flue parts in the lounge were roughly assembled to confirm that everything would line up correctly. Tom and Tim then got to work outside, fixing a series of support brackets into the masonry before connecting the remaining flue parts and finishing the joins. Black powder-coated twin wall flue was used instead of stainless steel, as this prevented any sunlight from being reflected at drivers using the adjacent road.
Overall, our experience with BZR Woodburners was flawless from start to finish, and we would highly recommend using their services. Make sure you checkout their website here, and do not hesitate to contact them if you need any stove-related work to be carried out at your property!
BZR Woodburners also offer a number of other services, which includes:
Bespoke installation – BZR Woodburners provide a service tailored to your requirements. They can help you choose the right stove for your space and budget, and they can provide detailed advice when it comes to your stove installation.
Liner replacement and installation – from break out and chimney clean to being fully plastered and signed off. Their team can fit a new stove into your existing fireplace or they can carry out a full breakout and fireplace remodel – plastered and ready for you to paint. BZR Woodburners have over 10 years of experience in the build and plastering trade. They can also provide and fit oak mantels, fireplace surrounds, and slate hearths.
Design and renovation – BZR Woodburners have an in-house architectural and interior designer. They can help you choose the aesthetics of your wood burner, but they also offer whole-room design. Their team can also design and build bespoke internal and external solutions for storing your fuel.
Aftercare services and maintenance – the team can service your stove and sweep your chimney, enabling you to safely enjoy the warmth of your fire for many years to come.