Helga Horse Box Conversion
1989 Mercedes 814 Horse Box Conversion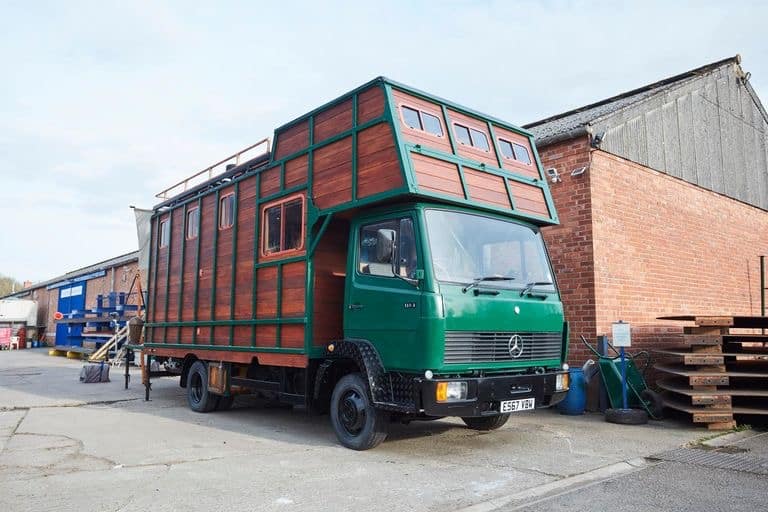 Here, our small wood burner is featured in an incredible horse box conversion that was completed by the craftsmen Dean Crago, Jake Churchill and Zack Hawkins from the company House Box. Dean acquired this stunning 1989 Mercedes 814 horse box called Helga (originally full of hay and manure) from Glastonbury, Somerset and spent roughly 6 months converting it.
The mobile tiny home was completely stripped of its original flooring and fittings, which were then replaced with bespoke cabinets, worktops, panelling and flooring. Creating the fittings from wooden pallets helped to keep the weight of the vehicle down, whereas logs were also used to give this horse box conversion an authentic log cabin feel.
Photos by Will Bunce
Dean installed a 150 litre water tank beneath the horse box, which also runs off a gas tank and solar panels, and he raised the height of the ceiling to allow the bedroom to accommodate two people sleeping in this beautiful small home on wheels. This horse box conversion comes complete with an oven, hob, grill, running water, electricity and of course a cosy fireplace with our tiny wood burning stove sitting at the very heart of this house box project. After all, what log cabin would be complete without its own little log burner?!
Dean has previously worked as a teacher, ran a cafe and lived in a minibus before converting his own horse box to live in, which led to him completing horse box conversions as his full time living, with this being his 7th project after starting his tiny home business in 2010. He claims that horse boxes are absolutely perfect for this sort of small home conversion because they offer so much space, resulting in a handmade, comfortable, economical and ecological way to live.