John Willetts Fireplace & Stove Centre
Offering the largest display of stoves and fireplaces in North East England.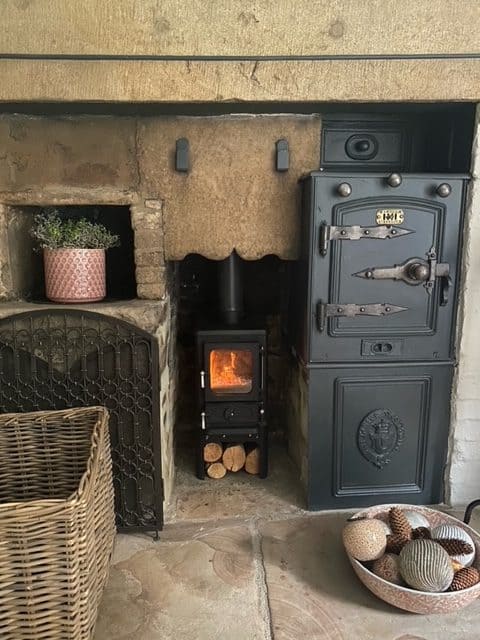 John Willetts Fireplace & Stove Centre has grown from a one-man band into the largest fireplace showroom in the North East of England! It remains an independently-owned and family-run business to this day, and the company has been well-established since 1975.
Here, the team have installed our Hobbit stove into a very unique and traditional fireplace, restoring it to its former glory. In comparison to an open fire, our modern small wood burning stove provides a dramatically more efficient and cleaner burning alternative.
The multi-fuel capability of the Hobbit stove and the Hobbit SE means that you can still burn wood, coal, or compressed sawdust briquettes. The period features of this historic fireplace can be used as an impressive set of shelves, and an adorable potted plant makes a lovely touch!
The Eco Design version of our small wood burning stove has two sliding controls at the front of the appliance, so that you can easily adjust the burn-rate of your tiny wood burner. Our small wood stove is pictured here with our stand option, which can be used as a neat little space to store your firewood. This stove extra can also be used to improve the view of your fire, as well as adding to the customisability of your small wood stove and making your appliance easier to refuel.
John Willetts Fireplace & Stove Centre have two showrooms – one in Spennymoor, Durham and the other at Wrekenton, in Gateshead. There is also a large factory unit that stocks a variety of marble and granite, so that customers can choose their own piece for their hearth.
If you are based near this accredited fireplace and stove centre, then their team of in-house HETAS registered installers will be able to advise on how you could incorporate our small wood burning stove into the design of your fireplace. They can also provide an eclectic range of fire surrounds that will match your installation beautifully! Visit the John Willetts Fireplace & Stove Centre website to find out more, and contact them to organise a free, no obligation estimate.
If you are not located near this business, then you can find your nearest recommended installer by entering your postcode into our authorised dealers page. Make sure you also check out our household fireplace flue kits, which can include all of the parts that you will need to get your stove installed! You can see if our Hobbit stove will fit your fireplace by taking a look at the dimensions of our stove and our fireplace distances document.