Off-Grid Yoga Retreat
Located near Kerames, Southern Crete, Greece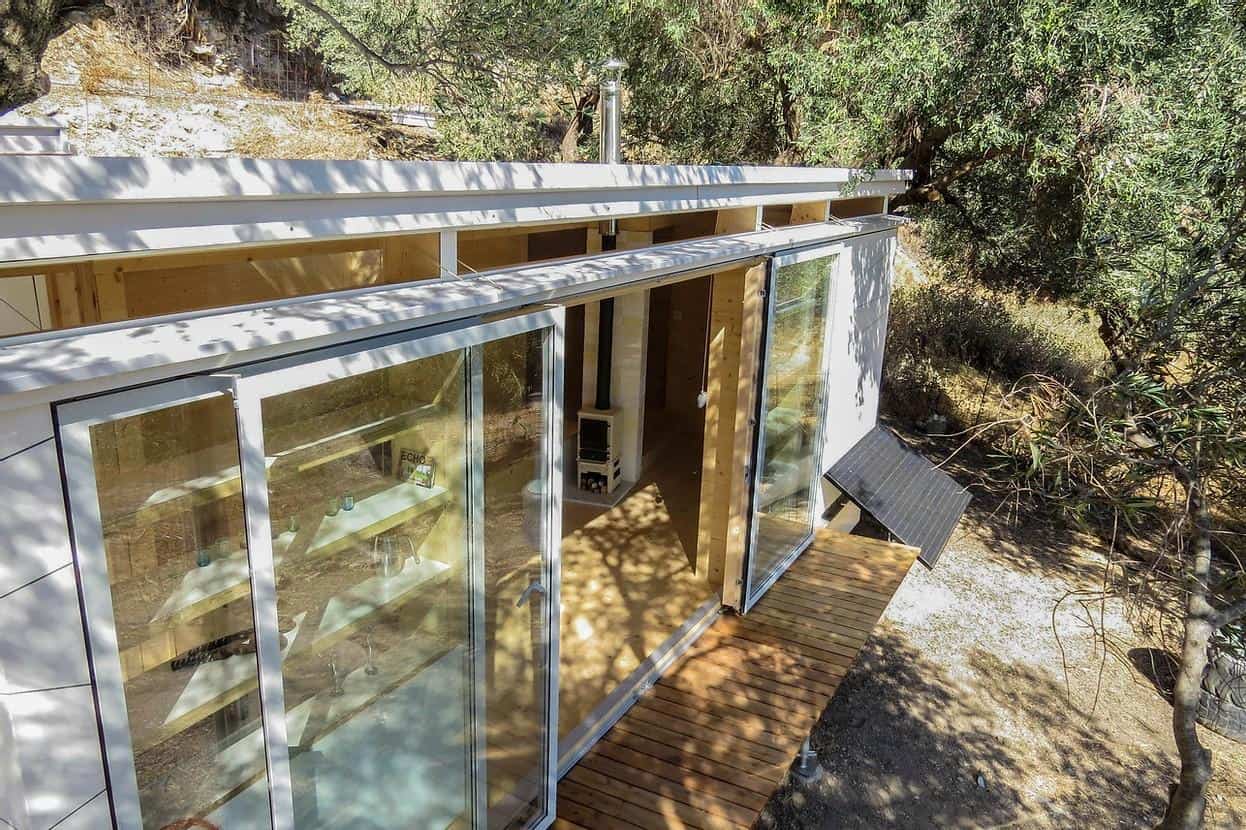 This stunning 270-square-foot cabin was commissioned by a dance and yoga instructor from Glasgow, who had the cabin built especially for her yoga sessions that she hosts in Summer, near the village of Kerames in Southern Crete.
Reclaimed tiles line the kitchen floor, and a wooden bench with built-in storage benefits from a skylight directly above it, providing a bright, cosy space for relaxing or reading a book. The property consists of two buildings which are connected by a timber walkway – a living and sleeping space sits adjacent to a shower room. The large sliding glass windows help to bring the outdoors in, and the cabin enjoys some incredible views over the Libyan sea. The natural light which fills the cabin along with its unfolding, open-plan design creates a living space which feels much larger than it really is!
Photography by Echo Living.
We were absolutely thrilled to see our small wood burner installed in this spectacular summerhouse, and the custom almond-coloured body helps the stove to seamlessly fit in with the interior design of the cabin, which in itself enhances the serene feeling to this property. The stand attached to the base of our small stove also provides a space-efficient way to store logs or other fuel, and the heat that's radiated by our miniature wood burner enables this heavenly space to be visited all year round due to the glowing warmth and comfort it provides.
If you're looking to purchase a cabin and need someone to help with the design of your dream tiny home, then do not hesitate to contact Sam and his team! They've done an incredible job with the design of this cabin in Greece, so make sure you check out the Echo Living website!
If you already have a cabin, studio or summerhouse that you're looking to install a small wood burning stove in, then make sure you visit our page of stove installation kits. We offer a flue kit package which is specifically designed for small cabins, and if you can't find what you're looking for then we also offer a free bespoke flue consultancy service, so please do not hesitate to get in contact with us if you're at all unsure about what flue components you might require or how they should be arranged!
The cabin was designed by Sam Booth – the founder of a Scottish-based tiny home company called Echo Living – and the building was transported by road all the way from Scotland to its new home in Greece! The retreat is gently tucked away in a secluded grove of olive trees and it's accessed via a steep, narrow road, which probably didn't help when it came to unloading the cabin!
The retreat has a minimal impact on the surrounding environment, and provides an attractive and sustainable alternative to more traditional building methods. The cabin is completely off-grid, as it's equipped with solar panels as well as a composting toilet, and the structure sits lightly on the ground without the use of any concrete foundations which would harm the neighbouring olive trees.
The use of large sliding windows, roof vents, and two huge doors made from solid timber, allow outside air to effortlessly flow through the property, which helps the interior to stay cool without the use of any mechanical systems. The interior walls, shelves and other fixtures also have a natural spruce finish that turns golden after being exposed to sunlight. This integrates the property with the outdoors, causing the cabin to age in conjunction with the surrounding landscape over time.