Burnhead Bothies Off-Grid Pyramid Pods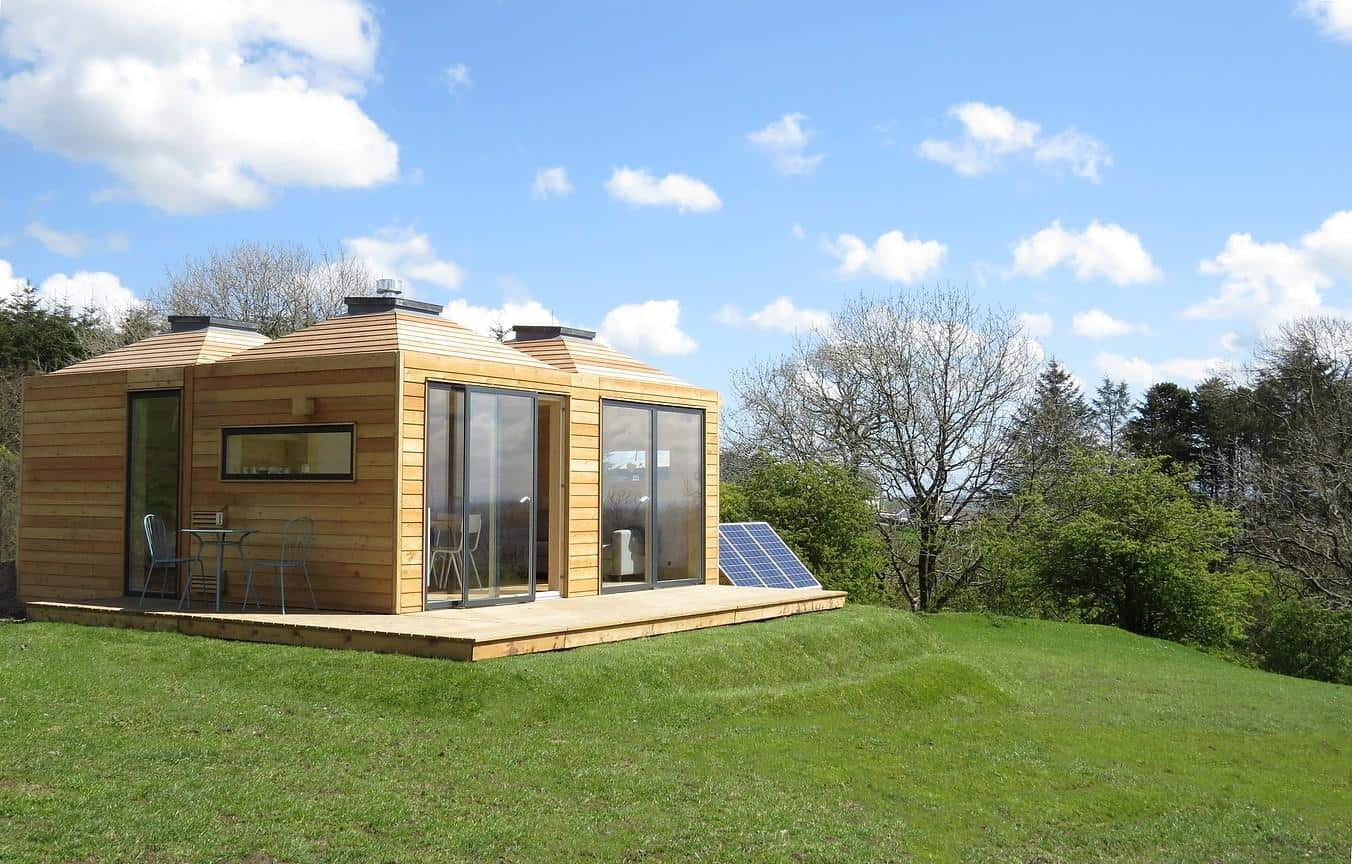 Burnhead Bothy is nestled in the rolling green hills of North Glasgow, just outside of Kilsyth. The striking design of this stunning little cabin was developed by Echo Living, a Scottish-based company that specialises in the design and construction of sustainable tiny homes.
The pyramid pod resides on Burnhead Farm, a 1600 acre hill farm that breeds Charolais and Highland cattle, as well as Swiss Valais and Scottish Blackface sheep! The dwelling is innovatively designed so that this beautiful hideaway meets the legal definition of a mobile home, and this spectacular little bolthole has even been constructed on a designated Site of Special Scientific Interest, as the surrounding landscape is rich in fossils and geological features.
We were extremely pleased to have our tiny wood burning stove incorporated into the design of this little hillside retreat, and our small wood burning stove enables this magical space to be used throughout the harsh Scottish winter! After a blustery walk across the pastures and hills, you can make your way back to the cabin and light a fire in our small wood stove to get warm and cosy again.
Our small multi-fuel stove is perfectly positioned in this cabin, so you can put your feet up and relax on the sofa whilst you enjoy the warmth and comfort that's radiated by the fire. You can even get extra cosy by boiling a kettle on the stovetop for a cup of tea or coffee, or you could make a stovetop hot chocolate!
This property is also off-grid! It's powered by 3 adjacent solar panels and it also benefits from the use of a private spring for the cabin's water supply. If this wasn't enough, the cabin offers even more eco-friendly credentials – the pyramid pods are constructed with sustainable timber, insulated with natural sheep's wool, and the interior is painted with an organic clay paint, which is breathable and environmentally friendly!
Our small wood burning stove is also a fantastic option if you're looking to reduce your carbon footprint, and you can read more about the sustainability of our tiny wood burner here. Make sure you also check out our tree planting scheme and the new Eco Design changes that have been made to our stoves!
The skylights that have been fitted in the top of each pod allow plenty of natural light to flood the living space, and they're also perfect if you fancy a spot of stargazing from the comfort of the cabin! The double-glazed Velfac windows and sliding doors also invite a substantial amount of natural light into the property whilst providing some breathtaking views of the surrounding landscape.
The natural sheep's wool insulation, combined with high quality windows and our small cast iron stove, ensures that any heat that's emitted from our wood burner is locked inside, creating a cosy, magical den that's perfect for glamping.!
If you're looking to have a bespoke cabin made for you, then make sure you check out the Echo Living website, as they've done such an amazing job at designing this unique pyramid pod cabin!
If you already have a cabin which you're looking to install a small wood burning stove in, then please do not hesitate to contact us! We have designed a number of installation kits that are tailored to a wide range of different structures. We also offer a bespoke flue consultancy service free of charge to help you decide on what flue parts you'll need for your stove and these components should be arranged!
To find out more about this amazing hideaway, make sure you visit the listing on Canopy and Stars, and check out the Burnhead Bothies website to book your stay today!