The Logpile House
Our small wood stove has found its home in this curvaceous cabin!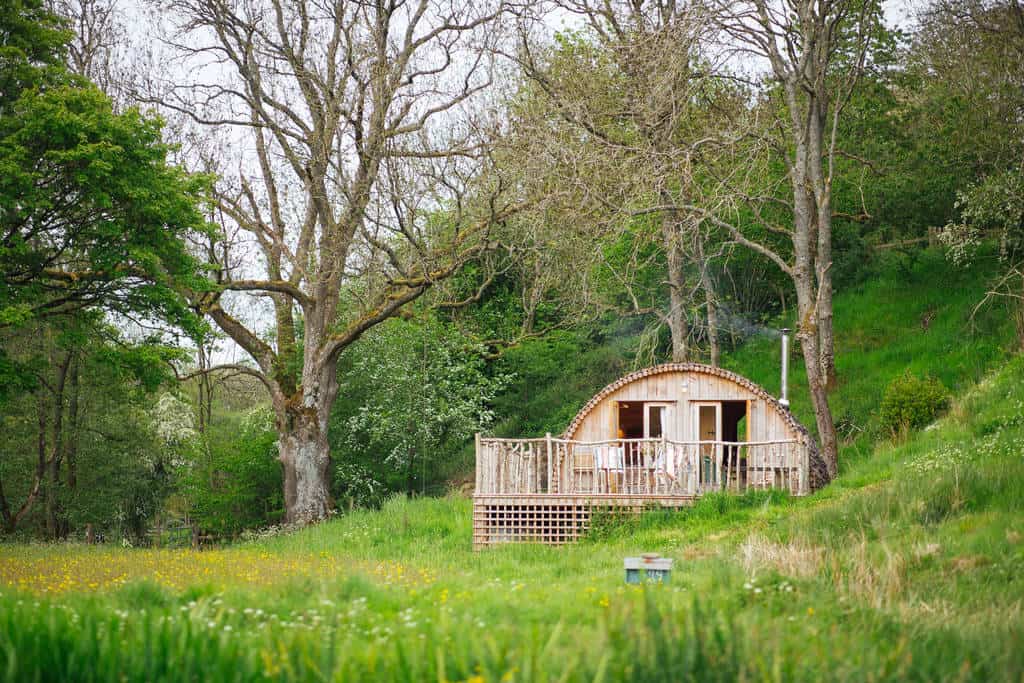 The Logpile House is tucked away within a secluded meadow in Powys, Wales. This beautiful structure still feels very much part of its local environment, and the owners have carefully managed the land to enhance the biodiversity of the wildflowers, wetlands, and the surrounding ancient woodlands. We were incredibly pleased to see that our small wood burning stove was integrated into the design of this stunning rural retreat!
Our Hobbit stove enables guests to stay at the cabin all-year-round thanks to the amount of heat it kicks out! Visitors can fully enjoy their day out, knowing that our small wood burning stove will be ready and waiting at the cabin to keep them warm and cosy.
The surrounding area has plenty to offer in terms of attractions and activities. Both couples, friends and families can choose to go mountain biking or hiking in the Brecon Beacons or the Cambrians, or you might decide to canoe up the Wye Valley! If you prefer a less intense day out, then the Hundred House Inn is just one mile up the road, and the cultural site of Hay-on-Wye is only 40 minutes away.
This gorgeous cabin is the perfect place to unwind and appreciate the wilderness. It sits on the banks of an oxbow lake, and it has a lovely decking area with wooden doors that open out onto the picturesque setting. The site also benefits from very minimal light pollution, which makes it the perfect spot for some late night stargazing! If you start to get a bit cold, then you can hop back inside the cabin to warm up in front of our Hobbit stove. A variety of books and board games have already been provided by the host, so you enjoy some time in front of the fire and watch the flames flicker away!
Despite its secluded location, the hosts are not too far away in case you need to ask them any questions, or if you need a hand with something. If you've packed heavily, then you'll need to trundle a wheelbarrow along the side of the river with your belongings, but those looking for a more comfortable adventure will be pleased to know that there's still Wifi and induction hobs at the cabin to make life a bit easier!
The twin bedroom can be easily converted into a double bed, allowing the cabin to sleep 2 people, but there's also extra space for another 2 adults. There's also a fire pit just outside the cabin, so you can enjoy some outdoor cooking and al fresco dining during the long summer evenings! If it's a hot sunny day, then adults and children alike can easily cool off by bombing into the river from the rope swing!
If you're wondering how you might be able to incorporate one of our small wood burning stoves into the design of your structure, then make sure you take a good look through the wide range of installation kits that we've designed, to see how you could get a Hobbit stove installed into your chosen space!
If you're at all unsure about what flue parts you might need, then please feel free to contact us, as we offer a bespoke flue consultancy service free of charge!
Make sure you also visit the listing for The Logpile House on Canopy and Stars to find out more and to book your stay today!