Nomad's Nest
Wind River Tiny Homes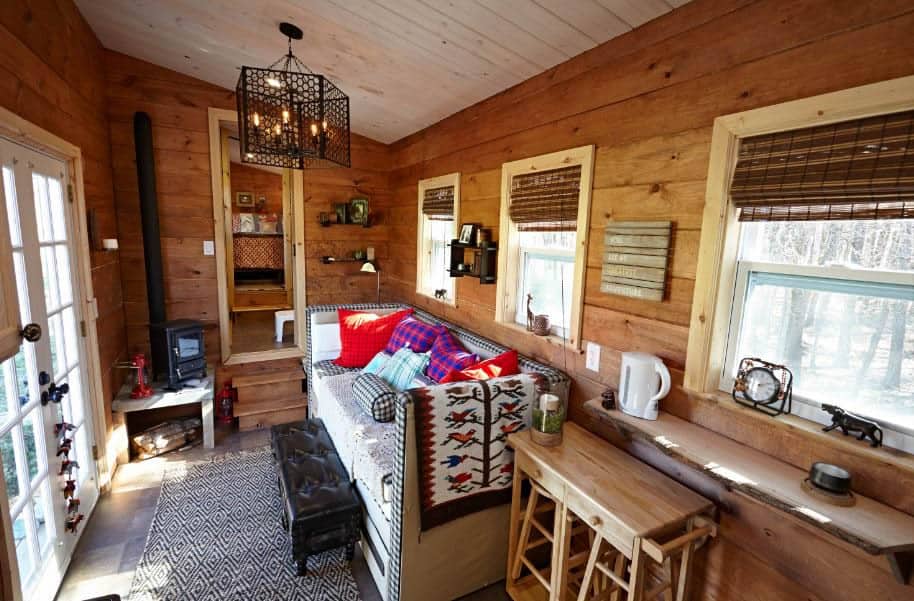 This stunning little tiny home on wheels is called the Nomad's Nest, and it was built by Wind River Tiny Homes – a group of tiny home owners, designers, builders and advocates based in Chattanooga, Tennessee.
Their team specialises in building custom-made and sustainable tiny homes, which are designed to enable people to live freely, and with authenticity and purpose. Their build team has over 30 years of combined experience in creative construction, and the people that design your tiny home are the same people that build it!
This particular tiny home project has a cute set of steps leading you inside, where you're then presented with a beautifully decorated interior! Our small wood burner looks fantastic in this tiny home, and it's perfectly placed for keeping you warm and cosy whilst you lounge on the sofa in front of the fireplace! There's also a fantastic little log store beneath the hearth, and the vintage red lanterns look great next to our small wood burning stove too! There's an adorable wooden breakfast bench where you can sit and look out the window, a small set of steps leading to the bedroom and there's even an innovative shower which converts into a small bathtub!
If you're looking to have a tiny home built for you then make sure you check out their website here! If you already own a tiny home and are looking to install one of our tiny wood burning stoves, then it's worth visiting our page of stove installation kits. We offer a tiny home flue kit which will make it even easier to install your own little wood burner! If you would like any advice or help when it comes to deciding what flue parts you'll need for installing one of our small wood stoves then we also offer a bespoke flue consultancy service free of charge, so please do not hesitate to get in contact with us!