Old Tinny
An adorable hut that sits within a secluded orchard in the Lincolnshire countryside. The hut has been custom-made and lovingly crafted by Roundhill Shepherd Huts.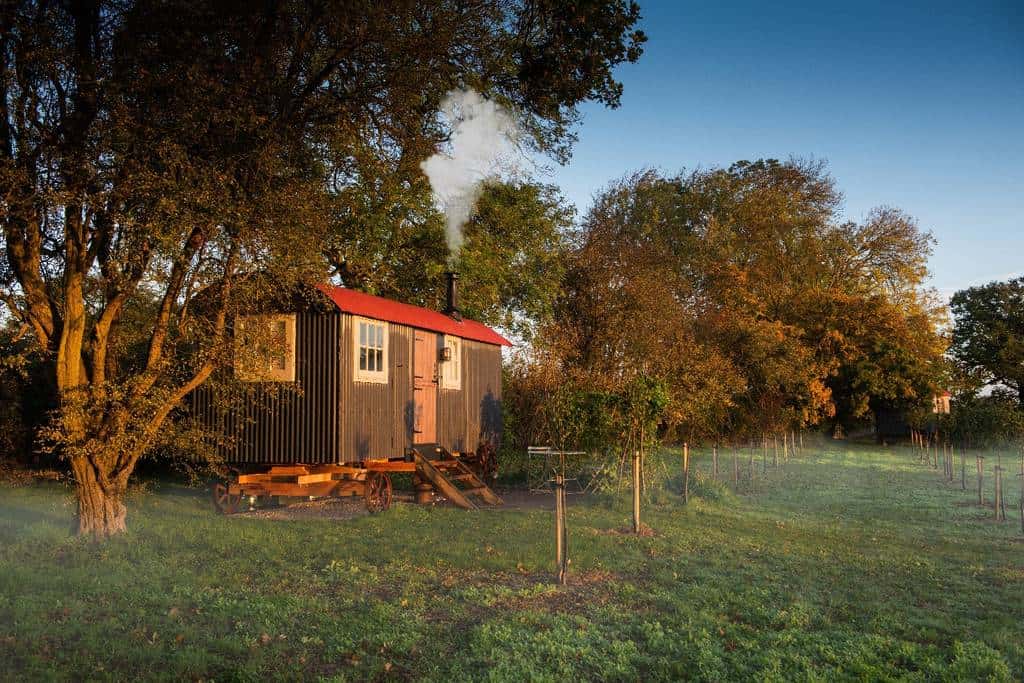 This beautiful little shepherd's hut has been affectionately named Old Tinny, and it's the perfect place to stay if you're looking to escape the stresses of everyday life! This rural retreat offers a countryside getaway combined with a range of luxuries that are sure to make your stay all the more enjoyable.
On a warm summer's day, you can stroll through the stunning orchard of 200 apple trees and wander through picturesque wildflower meadows. In the evening, you can revel in the private fire pit area or enjoy some al fresco dining! During the colder seasons, you can still kick off your shoes and dive into mountains of luxurious goose-down bedding, lapping up the warmth that's kicked out by our Hobbit stove whilst you watch the flames dance away throughout the night.
Here, our tiny wood stove has been fitted with our stand option. This makes our small wood burner easier to refuel, and it also provides you with a neat little log store just beneath the stove!
Despite its name, Old Tinny is equipped with a wide range of modern touches that are sure to make life that bit easier! If it's lashing with rain, then you can still flip open the cupboard and flick through Netflix on the smart TV whilst you're tucked away in the warmth and comfort of this cosy dwelling.
If this relaxing escape brings out the child within you, then you can embark on a playful treasure hunt that's been organised by the owner, where you'll be in for a chance to discover a hidden chest of Prosecco or other secret surprises! If you decide to venture further afield, then there's quaint local villages to explore and plenty of friendly local pubs as well.
After a brisk walk or cycle through the countryside, you can hide away in a warm pub to grab a drink. You can continue this cosiness back at camp by lighting our small wood burning stove upon your return, where you can bask in the warmth of the fire and reminisce about your day out.
Our tiny Hobbit wood burner enables places like Old Tinny to be enjoyed all-year-round. If you're wondering how you might be able to incorporate our small multi-fuel stove into the design of your shepherd's hut, then make sure you take a look at the two different flue kits that we've designed, which have been specifically tailored to fit most shepherds' huts! If you think your flue kit might need adjusting to suit your structure, then please feel free to contact us, as we offer a bespoke flue consultancy service free of charge.
Make sure you also visit the Stamford Cider Huts website to find out more, and to book your stay today!