The Orchard Hut
A beautiful little shepherd's hut that sits on Meadow Head Farm in rural Lancashire.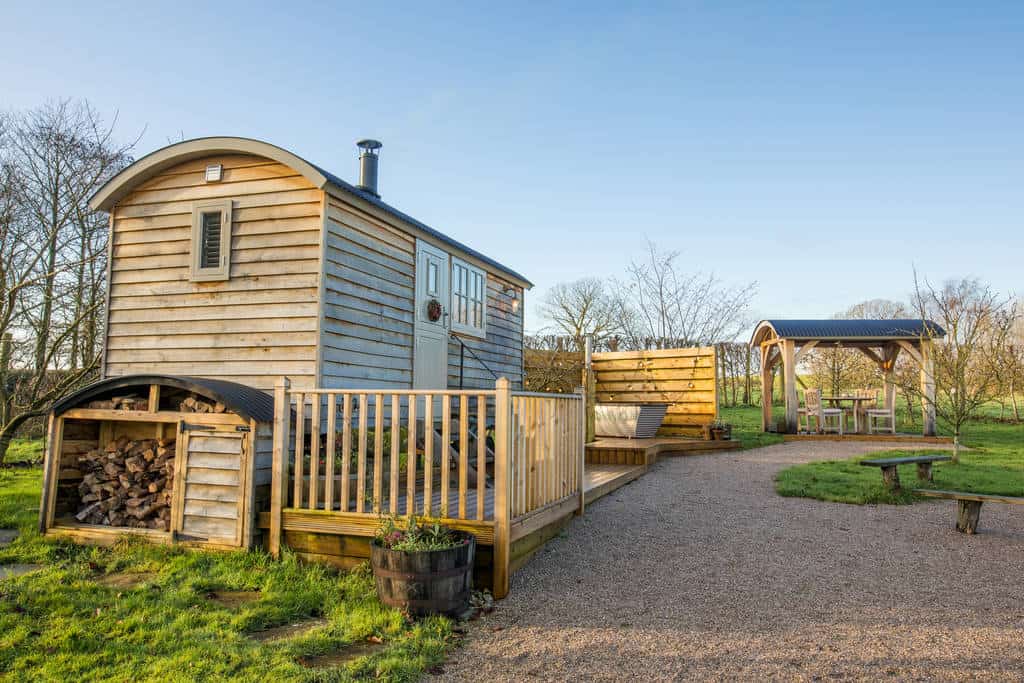 This luxurious shepherd's hut is hosted by Nick and Debbie, who have lived at the farm for over 20 years! During this time, the couple have carefully managed the land so that it supports and enhances the local environment. This has been achieved through re-wilding projects and tree planting. Over the 20 years, Nick and Debbie have planted over 4000 mixed native woodland trees! As a result, there's plenty of wildlife close by. Guests can often spot deer nibbling away at the alder hedges, and you might get to hear the odd hoot from the resident owl!
The hut has a great range of amenities for long summer evenings. There's a large kadai fire bowl as well as a spacious outdoor seating area, and the hut even has a wood-fired hot tub that's big enough for two, so you can relax together beneath the starry night sky!
The cosiness continues indoors, with our Hobbit stove sitting at the very heart of this rural retreat. Our small wood burning stove enables this gorgeous getaway to be enjoyed all-year-round, as you're guaranteed to stay warm and cosy at any time of year! The walls of the hut are also insulated with sheep wool, and it's been fully clad with oak, which is great at trapping the heat inside.
Nick and Debbie have also built an adorable little log store that's joined onto the side of the hut, so you'll always have some fuel at hand to keep your fire going!
After a dip in the hot tub, you can scramble across the deck and hop back inside the hut to get toasty warm again in front of our Hobbit stove. There's nothing more relaxing than reading a good book, playing a board game, or enjoying a glass of wine whilst you watch the flames flicker away.
Inside, the hut has a quaint country interior, which adds plenty of traditional charm. The hut has still been fitted with a range of modern luxuries, so you can benefit from the likes of an induction hob and a Nespresso machine. 
Spending the day lounging around this heavenly hideaway is a joy in itself, but if the sun is shining then there's plenty of spots close by which are certainly worth exploring! If you're feeling adventurous, then you can head out to the Lake District, or venture across the Yorkshire Dales. If you fancy something that's a bit closer to home, then you can also visit a variety of local pubs that are nearby.
If you're wondering how you could incorporate one of our small wood burning stoves into the design of your own shepherd's hut, then we can provide you with all the information you will need to get our Hobbit stove installed into your chosen structure!
It's worth taking a look at our corner installation document, as this is probably the most common positioning when it comes to installing our small wood burning stove into a shepherd's hut. Our heat shield option is also very useful, as shepherds' huts are often tight on space! You can take a look at this document here to see how much space you will need to have around your small wood stove.
Once you've worked out where the stove can be placed, make sure you check out the two installation kits that we have specifically designed to suit most shepherds' huts. If you're at all unsure about what flue parts you will need and how they can be arranged, then please do not hesitate to contact us, as we offer a bespoke flue consultancy service free of charge!
Make sure you also visit the listing for The Orchard Hut on Canopy and Stars to find out more and to book your stay today!