The Stone Wall Hideaway
A gorgeous hand-crafted shepherd's hut that's tucked away in rural Northern Ireland.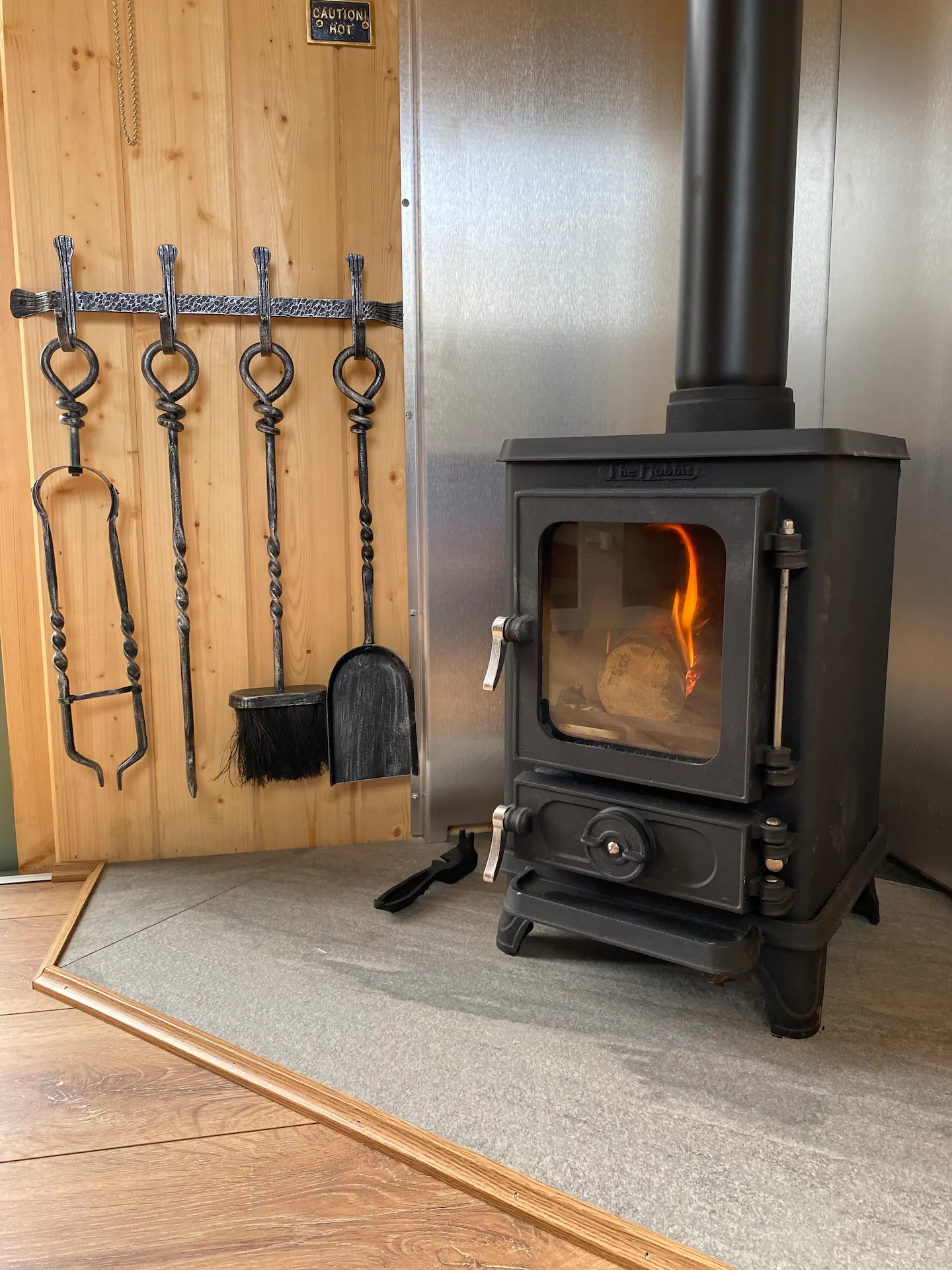 The Stone Wall Hideaway is nestled in a peaceful field near Portglenone, a small village in Northern Ireland. The shepherd's hut enjoys stunning views over the surrounding countryside, and it's the perfect place to stay if you're looking for self-catering accommodation within the area.
This beautiful bolthole benefits from free on-site parking, a private hot tub, and a fully fenced private backyard, complete with a fire pit! The hut gets its name from the lovely stone wall that's been built around the property, which is perfect for keeping the neighbouring cows at bay. It also boasts a modern and well-equipped interior, but the wooden cladding adds a cosy log cabin feel to this beautiful rural retreat.
Our Hobbit stove has been incorporated into the design of this incredible shepherd's hut so that guests can stay warm and cosy whenever they decide to visit! Our small wood burning stove enables The Stone Wall Hideaway to be enjoyed all-year-round, and this space is hugely inviting in the depths of autumn and winter.
The hut provides a fantastic glamping spot where you can truly relax and take a well-deserved break. Even the simple task of crouching down and lighting a fire in our small wood stove is enough to escape the rush of everyday life!
If you've had a hot and hectic summer, then why not book a relaxing stay at The Stone Wall Hideaway, where you can see new sights and explore the treasures of Northern Ireland! When you arrive back at camp, you can put your feet up and enjoy a glass of wine or a hot drink whilst you watch the flames gently flicker away in our Hobbit stove. The ideal way to end your night after a dip in the hot tub!
Fitting a small wood burning into your glamping space is a great way to extend your letting season, whilst reducing your energy bills and creating a homely, welcoming atmosphere all at the same time! If you're wondering how you could install a Hobbit stove or a Hobbit SE into your shepherd's hut, then make sure you take a look through our small stove installation kits!
Our shepherd's hut flue kits have been specifically designed for these types of structures, and they are perfect for installing our small wood burning stove into almost any hut. However, if you think that the flue parts included in these kits might need to be adjusted to fit the unique specifics of your hut, then please do not hesitate to contact us.
We offer a bespoke flue consultancy service free of charge, so if you're at all unsure as to what flue parts you would need to install our small wood stove, then we will gladly advise on your installation. All we need is an email from you with some photos and measurements of the inside of your hut.
If you're wondering how other people have incorporated our small multi-fuel stove into the design of their glamping space, then make sure you check out our other case studies for some inspiration! You can also enter your postcode into our authorised dealers page to find your nearest recommended installer, who will be able to conduct a site visit to see how one of our small stoves could be fitted into your space.
Make sure you visit the AirBnb listing for The Stone Wall Hideaway to find out more and to book your stay today!