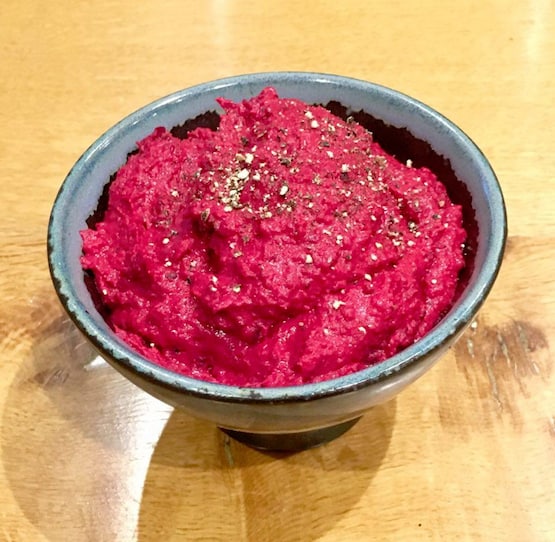 Roasted beetroot humous from the tiny wood stove.
Use your tiny wood stove to make a delicious toast topping taste sensation.
ROASTED BEETROOT HOUMOUS.
Ingredients;
1 x bunch of 2/3 medium/small beetroots – Fresh beetroot from Sainsburys 500g for £1.50 is enough for 2 batches! or you can easily grow your own if you have a small vegetable plot.
1 x tin of cooked chick peas ( Napolina one's are on offer at only 67p a tin)
1 x lemon
1 x clove garlic
1 x spoon of tahini sesame paste ( a jar is £1.80 and is enough to make loads!)
1 x 50-100ml of quality olive oil.
salt, pepper, paprika
Method;
Step1.- Peel the beetroots and place them in a roasting tin. Drizzle with a little oil and then season with rock salt and black pepper and a few fresh herbs such as thyme or parsley if you have any. Place your roasting tray in a moderate oven and roast for a couple of hours. Roasting vegetables in a slow to moderate oven is an ideal way to make the most of your logs potential. Your stove will be keeping you warm as you work but it will also be cooking you up a tasty treat. I have roasted beetroots grown in our polytunnel on a slow oven all day before until they are super tender and sweet. If your beets are a little older and less sweet then drizzle with a little honey before you roast them off.
Step2.– Pop the beets, drained and rinsed chick peas, crushed garlic, tahini, the juice from the lemon and seasoning in a food processor with a quarter of the oil. Blitz until everything is smooth. Drizzle in more oil or water until you reach the consistency you prefer. Spoon into a bowl and sprinkle with more black pepper, paprika and a further drizzle of olive oil.
SERVING SUGGESTION FROM IOWA GIRL