Wild With Nature
An incredible glamping site that spans over 750 acres of glorious Norfolk countryside.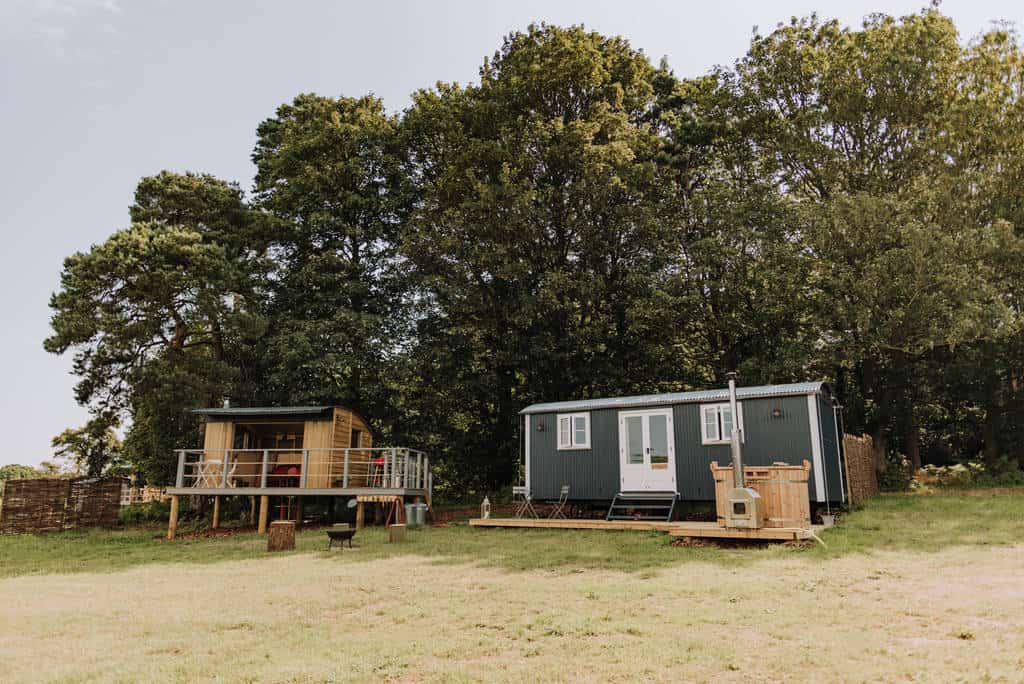 Wild With Nature is set in the Breckland village of Shropham, in the heart of East Anglia. The glamping site is part of Manor Farm, which has been cared for by the Thornton family for 3 generations! It was once a traditional arable farm, but the current custodians – Andy, Rebecca, Rosie and Thomas – have worked tirelessly to restore the land and transition it away from its history of intensive farming.
This beautiful landscape has been transformed into a conservation area, helping to protect and replenish the local environment and its wildlife. The land is now a combination of farmland, wildflower meadows, lakes and woodlands!
Wild With Nature offer a number of luxurious shepherds' huts that guests can stay in, and a Hobbit stove has been installed into Cowslip Hut, Barn Owl, the Orchid Hut, Mallard Hut, and the Pheasant Hut! The compact nature of our small wood burning stove is perfect for shepherds' huts, and it makes efficient use of the limited amount of space that's inherent to these structures.
The family began their glamping business venture back in 2018, when they ordered some stunning shepherds' huts from The English Shepherd's Hut Company. The farm now consists of two glamping sites, Honey Pot Meadow, which is designed for couples seeking a romantic escape, and The Lakes, where friends and families can get together in nature and let the children run wild!
The huts have also been made off-grid through the installation of solar panels and a borehole, which were added the following year. Both areas will allow you to relax, unwind and reconnect with the natural world.
The spacious huts have their own wood-fired hot tubs, and despite their tranquil and secluded location, Shropham is less than 2 hours away from London. There's also a variety of market towns, which are all reachable within a 30 minute drive. There's even a communal safari tent, outdoor pizza ovens, and you can also go kayaking or swimming in the lake!
After an adventurous day out, or some time spent lounging around this wonderful plot of land, you can hop back inside your shepherd's hut and get toasty warm in front of our tiny wood burner. As the evening draws in, you can sit back and watch the flames flickering away, all from the comfort of your plush, king-size bed! Our stoves are perfect for small spaces, and the Hobbit stove enables guests to stay warm and cosy all-year-round, whether you book a staycation for spring, summer, autumn or winter.
If you're wondering how you might be able to incorporate our small wood burning stove into the design of your own shepherd's hut, then there's a few bits of information worth checking out. Firstly, you can find out more about the Hobbit stove here, and it's also worth taking a look at this document to see how much space you will need to have around your small wood stove.
Our heat shield option is also very useful for shepherd's hut installations, as it considerably reduces the clearances that you will need to have around your small wood burner! Once you've decided on what stove extras and colours you want to go for, why not take a look at the two installation kits that we've designed specifically for shepherds' huts.
If you're still unsure as to which flue kit you will need, then please feel free to contact us, as we offer a bespoke flue consultancy service free of charge!
Make sure you also check out the Wild With Nature website to find out more. You can contact them or visit the listings for their huts on Canopy and Stars to book your stay today!