Ernie
A quaint little wagon that sits on a peaceful corner of Bridle Farm, in Somerset.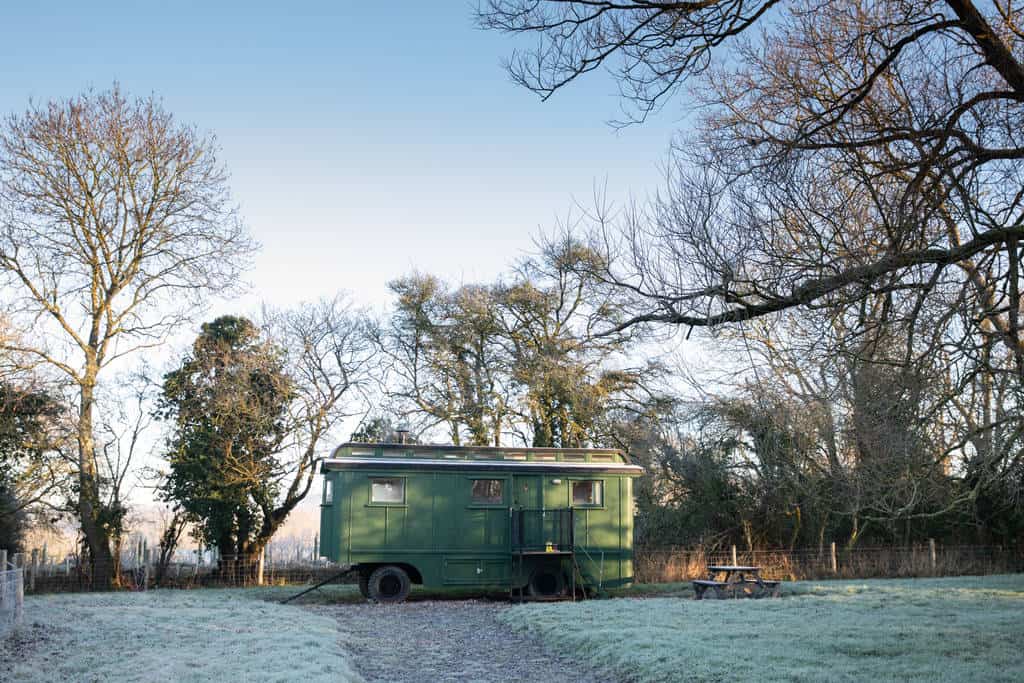 This adorable tiny home on wheels has been affectionately named Ernie, and it's the perfect place to stay if you're looking for a more alternative getaway! The hosts, Alex and Anneke, acquired Bridle Farm back in 2016. From the very beginning the pair got stuck into attentively caring for the land, and what was once a wild and neglected space has been transformed into a tranquil safe haven!
We're extremely pleased to see that Alex and Anneke decided to incorporate the Hobbit stove into the design of this quirky rural retreat! Our Hobbit stove only adds to the warm, welcoming character of this wonderful escape. You can set off on a chilly walk in spring, autumn or winter with the peace of mind in knowing that our small wood burning stove will be waiting to get you warm and cosy again upon your return!
Despite its size, our small stove kicks out plenty of heat, so you're guaranteed to be warm and snug no matter what time of year you decide to stay! As the evening draws in, you can sit back and play some board games or read a good book by the fire whilst you watch the flames dance into the night.
Here, our small multi-fuel stove has been custom-painted to add a unique touch to its style and personality. There's also a fireguard to keep playful children at bay.
In this instance, our tiny wood stove has been configured to allow the flue pipes to exit out the back of the stove, in a similar way to our wall exit kits. This frees up the entirety of your stovetop, so that there's more space for a stovetop kettle, a Salamander cook pot, or a griddle pan. You could even use one of our T1000 toasting forks to cook a crumpet or a slice of toast, completely hands-free!
If you're wondering how you might be able to install one of our small wood burning stoves into your chosen structure, then make sure you check out the wide range of installation kits that we've designed. Our installation kits make the fitting process a whole lot easier, and we have designed a number of different flue kits that are tailored to suit a variety of different structures.
If you think you might need to make some changes to the list of flue parts, then please feel free to contact us, as we offer a bespoke flue consultancy service free of charge!
The bunk beds sleep up to four people, and the wagon is complete with an induction hob and plenty of storage beneath it. If you can bring yourself to leave this beautiful hideaway, then you can hike to several cafés and pubs in Wincanton, but those looking for a more relaxed break can lounge by the pond and make use of the covered fire pit and BBQ area.
There's a herd of Aberdeen Angus cows nearby, but the pond also brings a wealth of other wildlife! If you wait patiently, you might spot some foxes, stoats or deer! On a warm summer's evening you can light the fire pit and enjoy some al fresco dining. It's also worth keeping an eye out for the bats and barn owls that often make an appearance at dusk.
For more information about this beautiful bolthole, make sure you check out the listing for Ernie on Canopy and Stars and book your stay today!