Fejan Outdoor
Glamping, kayaking, and the Outer Archipelagos!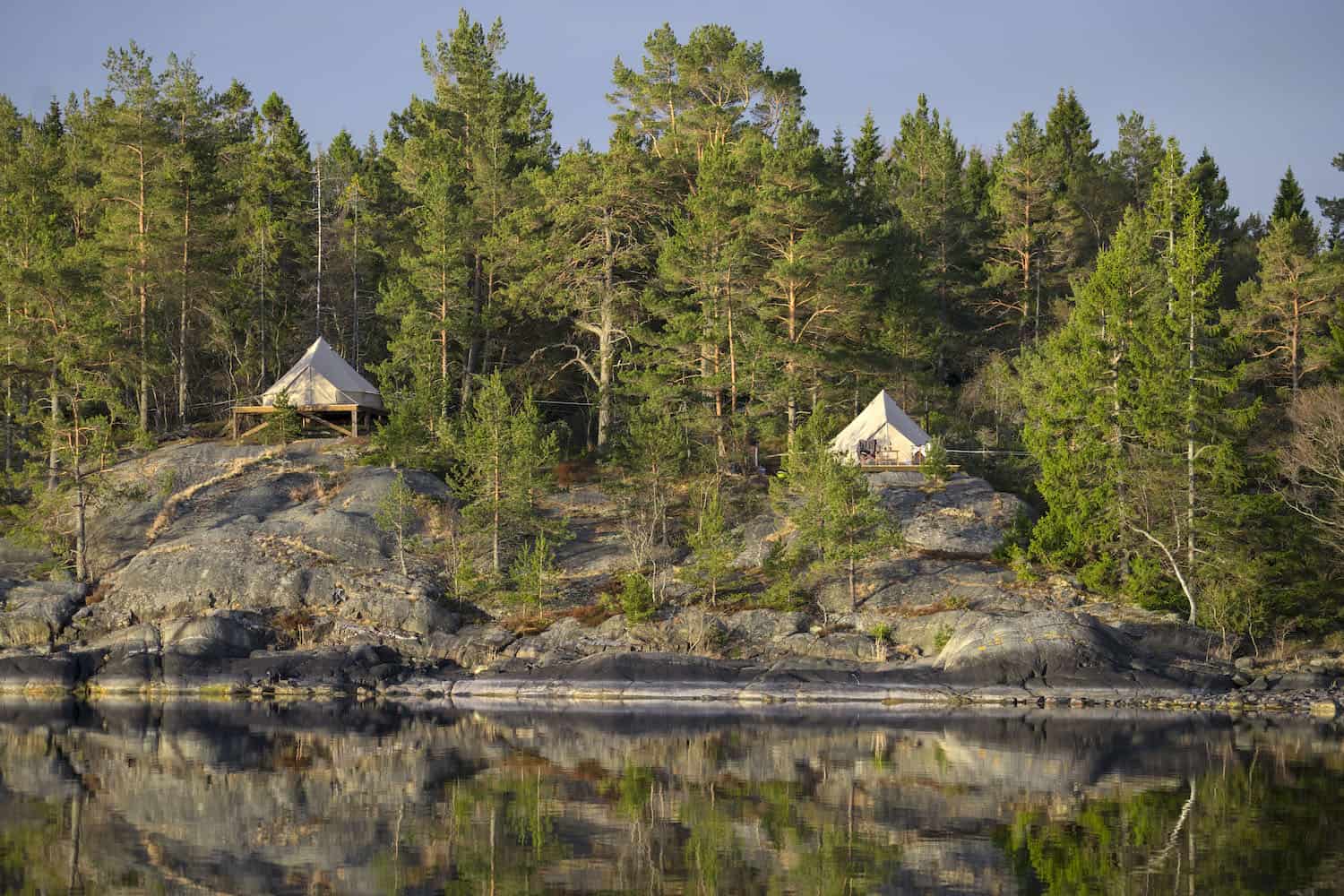 The Fejan Canvas Hotel rests on the beautiful island of Fejan, which is situated in the outer parts of the Stockholm Archipelago. Fejan Outdoor offer some stunning glamping spaces on the island, as well as kayak rentals, and the island is just 1.5 hours away from Stockholm! This is the shortest distance to the outer archipelago, where you're guaranteed to be able to relax in the peace and quiet of the island. If this sounds a bit too remote, then don't worry – there's even a waffle café onsite! Fejan Outdoor have been offering kayak hire on the island since 1997, and their acclaimed glamping spots have been up and running since 2016!
They have six different glamping tents that you can stay in, and each one is beautifully decorated. They're positioned at various heights and distances away from the water's edge, and four of the tents have been kitted out with our small wood burning stoves! This means that you're sure to stay warm and cosy, no matter what season you decide to visit! Our small wood stoves embarked on quite a journey to get there, but you can see a great photo of them all lined up on the jetty upon their arrival! You can also see a photo below of where each tent sits in terms of this incredible landscape.
Our small cast iron wood stoves are multi-fuel, which means that you can burn kiln dried logs, coal or eco briquettes. If the weather takes a turn for the worse, then you can still huddle up in the bell tents and stay nice and warm in front of the fire in one of our small wood burners. Our T1000 stovetop toasting fork also makes the perfect camping accessory, as you'll be able to toast a range of food over your campfire or in front of our tiny stove, completely hands-free!
Tent 01 is at the very top – above and slightly away from the water. The other tents get progressively lower and closer to the water, until you get to tent 04, which is the lowest and closest to the water's edge. The tents also have a small terrace, where you can sit and gaze out towards the horizon, allowing any thoughts to fade away into the distance. Five of the tents sleep two people, with a double bed in each tent, but there's also a family tent with a double bed and two single beds, which sleeps four. This means you won't have to take a backpack and a roll mat to sleep on the floor!
The tents are large and comfortable, and they have a thick canvas, which means that no condensation forms and it remains nice and quiet. There's also warm duvets and bedding which is up to hotel standards, and the oil lamps are a fantastic touch to transform your stay into an exciting little adventure!
If you don't quite fancy braving the outdoors, then you can actually sleep in the barn, which was built in 1890, and did we mention that there's a waffle café onsite!? If that doesn't sound good enough, then they even deliver a breakfast basket to your tent each morning, and they also offer a two-course dinner which is included in the price.
Taking into account the form of the land and the natural environment, their tent platforms have been built without any form of anchoring to the ground, as they rest neatly on the rocks. All of the ropes around the trees have also been protected to ensure there is a minimal impact on the surrounding nature.
Make sure you visit their website and their Instagram page to find out more, or to book your stay! If you're unsure as to how you could install one of our small wood burning stoves into a bell tent, or any other form of glamping pod, then please feel free to get in touch, as we offer a bespoke flue consultancy service free of charge!
Please see this page for photography credits. Some of the pictures shown in this gallery were taken by Samy Dahlman and David Kvart, so make sure you check out their work!