The Oat Box
The Oat Box is a beautiful 1968 Bedford TK Horse Lorry, which has been lovingly converted by Olive McCaughan! Photography by Emma Stewart Photography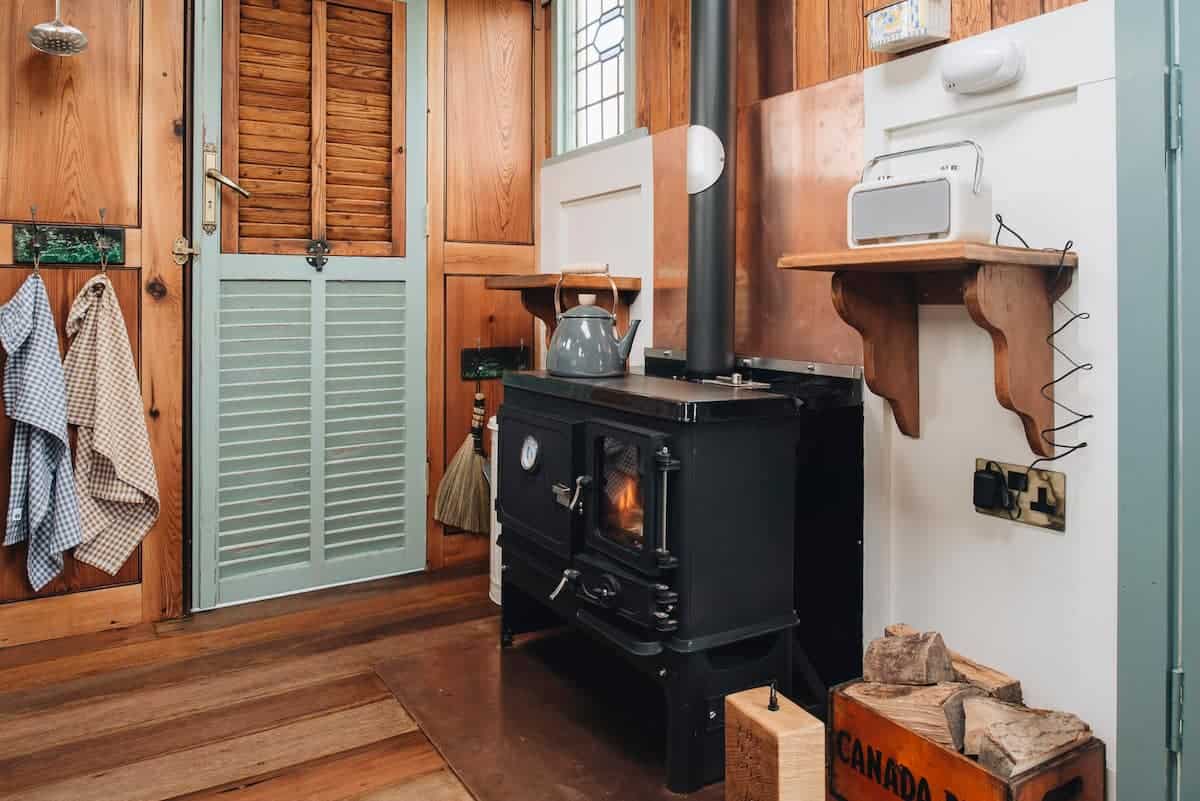 After selling her gift and accessories company LoveOlli, Olive got stuck into transforming a Bedford Horse Lorry into this incredible glamping space, which is perfect for a romantic escape! It's based on the Causeway Coast, which is just at the top of Northern Ireland, and you can click here to book your stay!
There's a lovely fire pit that you can sit around in the evening, and our Little Range Cook Stove brings all of the benefits of a fire right indoors! You'll stay warm and cosy throughout the evening or during any winter months, and if it's raining outside you can still sit in front of a fire and toast some marshmallows indoors!
Our Little Range has a good-sized cooktop and a built-in oven, which is great if you're looking for a self-catering option when you go to book some nights away. You'll have no problem doing some wood-fired cooking on the stainless steel cooktop, and you can use the oven for baking, roasting or slow cooking! After dinner you can kick back and relax by making a hot chocolate or a hot cup of tea or coffee on the top of our small wood cook stove.
Whenever you feel like getting up in the morning, you can start your day by making some toast or cooking some crumpets in front of the fire with the help of our T1000 stovetop toasting fork! You could also use a Toas-Tite camping grill to make some pizzas, toasties or apple pies in the remaining embers of the fire pit, or right inside the firebox of our small cast iron stove.
This delightful holiday retreat sits on private farmland, so you're sure to enjoy a calm and peaceful stay. Olive found the 1968 Bedford TK Horse Lorry on eBay for £8,000, and it was transported from England all the way to Northern Ireland, arriving in its new home in June 2019. The horsebox had to be stripped back, but she was able to retain the original ceiling and mahogany floor!
The Oat Box has mainly been kitted out with repurposed and salvaged materials – the art deco tiles were sourced from a house clearance, the cushions were made from vintage fabrics that Olive has collected over the years, and her Mum made all of the soft furnishings!
The stunning king size bed sleeps 2 adults and a small child, and Olive even provides a food service using local artisan produce! The front seats of the vehicle have proved a fantastic opportunity for guests to take some selfies, and the registration plate is OAT 180F, which is where the converted horsebox gets its name!
Make sure you check out the Airbnb listing for The Oat Box, so that you can book your stay! The Giant's Causeway are just a few miles away, and there's also some Game of Thrones sites close by too!