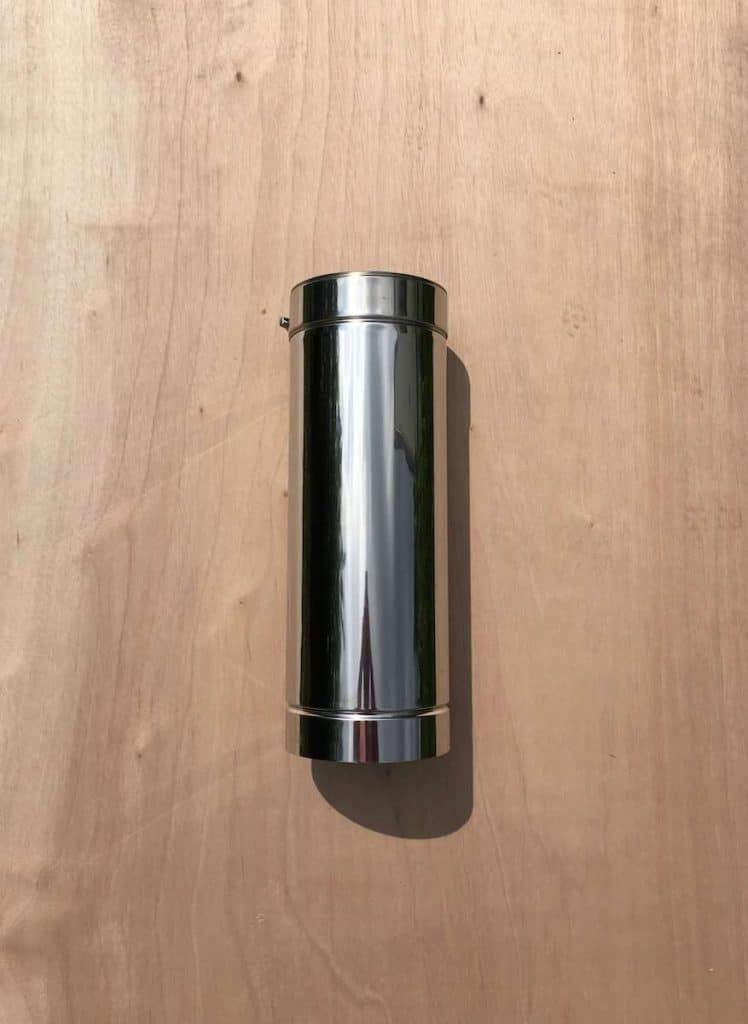 125mm Twin Wall Insulated Flue Pipe – 500mm Length
£105.00 inc.VAT
This 500mm length of twin wall insulated flue is made in the UK to the highest specification by Midtherm, and it has a beautiful stainless steel finish.
This flue part can be connected to other twin wall flue components, or it can be connected to an adaptor, where your single wall flue will convert into twin wall flue.
Midtherm flue parts are only compatible with other flue parts from the Midtherm range.
Please note that any new orders for flue parts could take up to 10 working days to be delivered. If you need flue parts before this, then please do not hesitate to contact us to discuss availability.
This twin wall insulated flue pipe has a 125mm/5" internal diameter, and it works brilliantly with your Hobbit stove,Hobbit SE or Little Range Cook Stove! All of our stoves have a 100mm/4" outlet. This means that you can connect directly into the top of our small wood burning stoves with a 100mm/4" single wall flue pipe, which can then be converted into twin wall flue. Alternatively, you could connect your stove to an adaptor, which can be connected straight into a twin wall flue system.
Our twin wall insulated flue pipes can also be used as part of an installation kit. Twin wall flue parts tend to be used outside of your chosen structure, and just before your flue system exits your room. However, using twin wall flue inside your campervan, shepherd's hut, tiny home, canal boat, yurt or horse box will enable you to position your flue system much closer to combustible materials, which is particularly useful if you're tight on space!
Twin wall flue parts can be placed just 50mm away from combustible materials, whereas single wall flue will need to be placed at least 3 times its diameter away from combustible materials, and 1.5 times its diameter away from non-combustible materials. This means that our 100mm/4" single wall flue pipes will need to be situated at least 300mm away from a combustible surface, and at least 150mm away from a non-combustible surface.
If you need your flue system to exit through the wall of your small space – rather than through the roof – then we've designed two different wall exit kits, which both utilise twin wall flue parts. Using one of these flue systems is also a great solution if you're looking to install your small wood burning stove into a kitchen, where you might not be able to connect to a chimney.
You can take a look through our case studies to see how other people have installed their small wood burning stove, and you can check out our blog for lots of useful articles and videos which will guide you through your installation process. If you're still stuck, then please feel free to contact us, as we offer a bespoke flue consultancy service free of charge to help you install your Hobbit, Hobbit SE or Little Range Cook Stove into your chosen space!