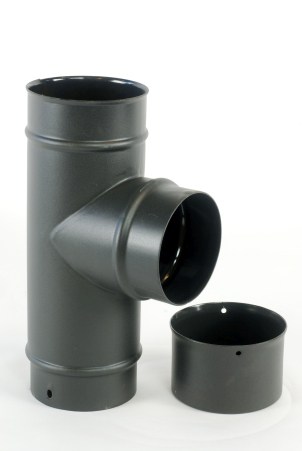 Rear Exit Kit
£110.00 inc.VAT
Our rear exit kit consists of a 90 degree T and cap as well as 2 locking bands. It enables you to have your flue exiting from the back of your Hobbit stove or Hobbit SE, and it's also compatible with a range of other small stoves.
You can browse our extra flue parts section to see what other parts you can add to this kit, or you can also take a look through some of our installation kits. Our installation kits include all of the flue parts that you will need to install your stove, and many of these kits incorporate the use of our rear exit kit.
Please note that our stove is not included with this installation kit.
Please note that any new orders for flue parts could take up to 3 weeks to be delivered. If you need flue parts before this, then please do not hesitate to contact us to discuss availability.
Exiting from the back of your small stove is a fantastic option if your flue system is going to be obstructed by a window or a combustible surface which might be positioned directly above your small wood stove. Our rear exit kit is also useful if you cannot position your stove far enough into your fireplace for the top collar to line up with your chimney.
You can browse a range of our flue kits which use our rear exit kit here. Some of these installation kits are designed with single wall flue pipes inside of your small space so that you benefit from the extra heat that's radiated from your flue pipes, but there are several other kits which have the flue exiting through the wall if you're tight on space.
Our rear exit kit also liberates the entirety of your stovetop, so you will have a lot more space for heating up a pan or a kettle on the top of your small stove. If you're looking to get stuck into some wood-fired stovetop cooking, then you can also add a stainless steel cooktop option to your Hobbit stove, which allows you to cook at a range of temperatures on your stovetop. This additional stove option also helps to prevent any abrasion to your stovetop which can be caused by your pans, and it's also removable, which makes it quick and easy to clean. You can click here to browse a range of our other stove extras that you can add to your Hobbit stove, and you can also browse our free online wood stove cookbook, where you can find some recipes to cook on your small stove!