Seaglass
A luxurious clifftop cabin overlooking the shimmering ocean of Whitsand Bay, on the south coast of Cornwall.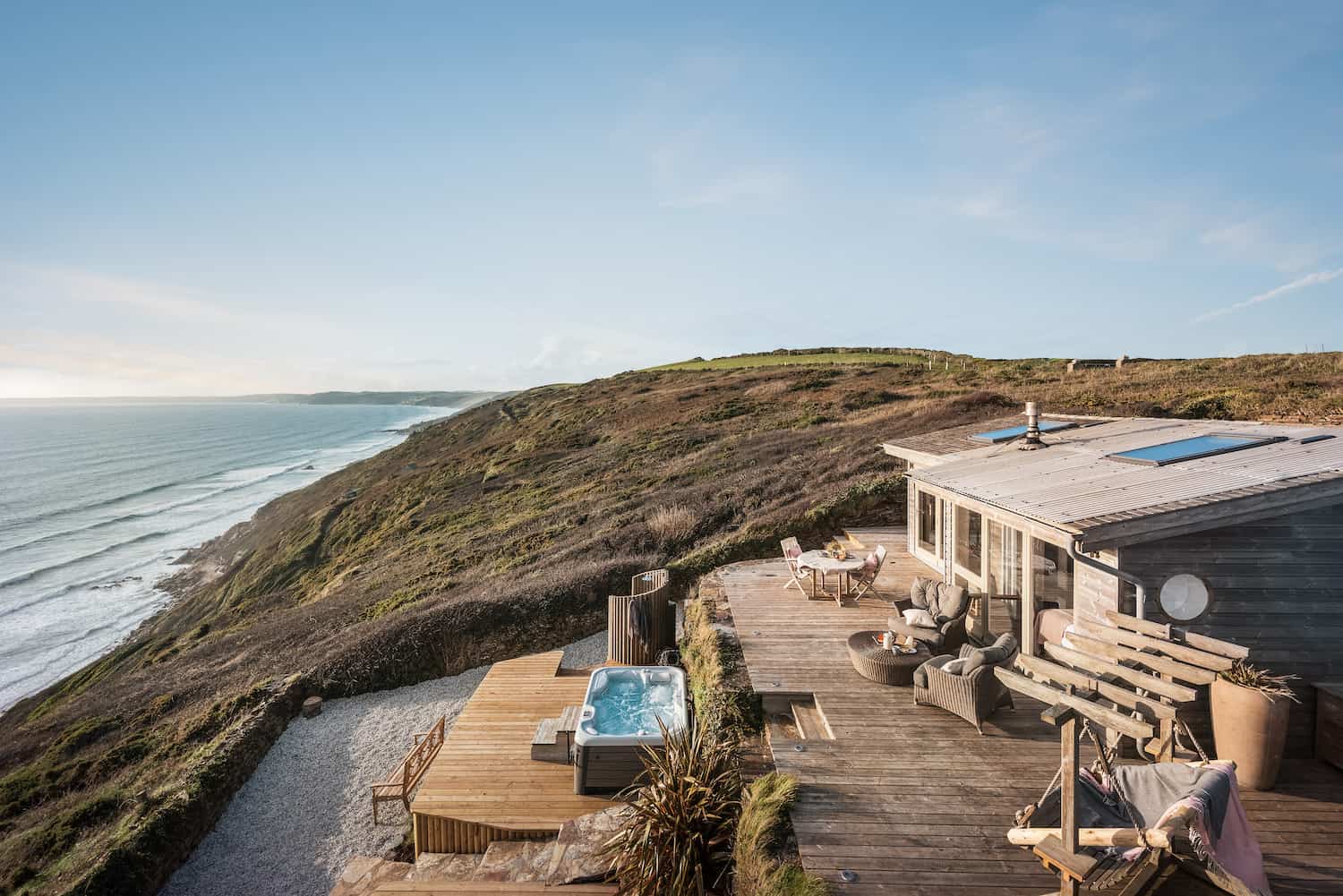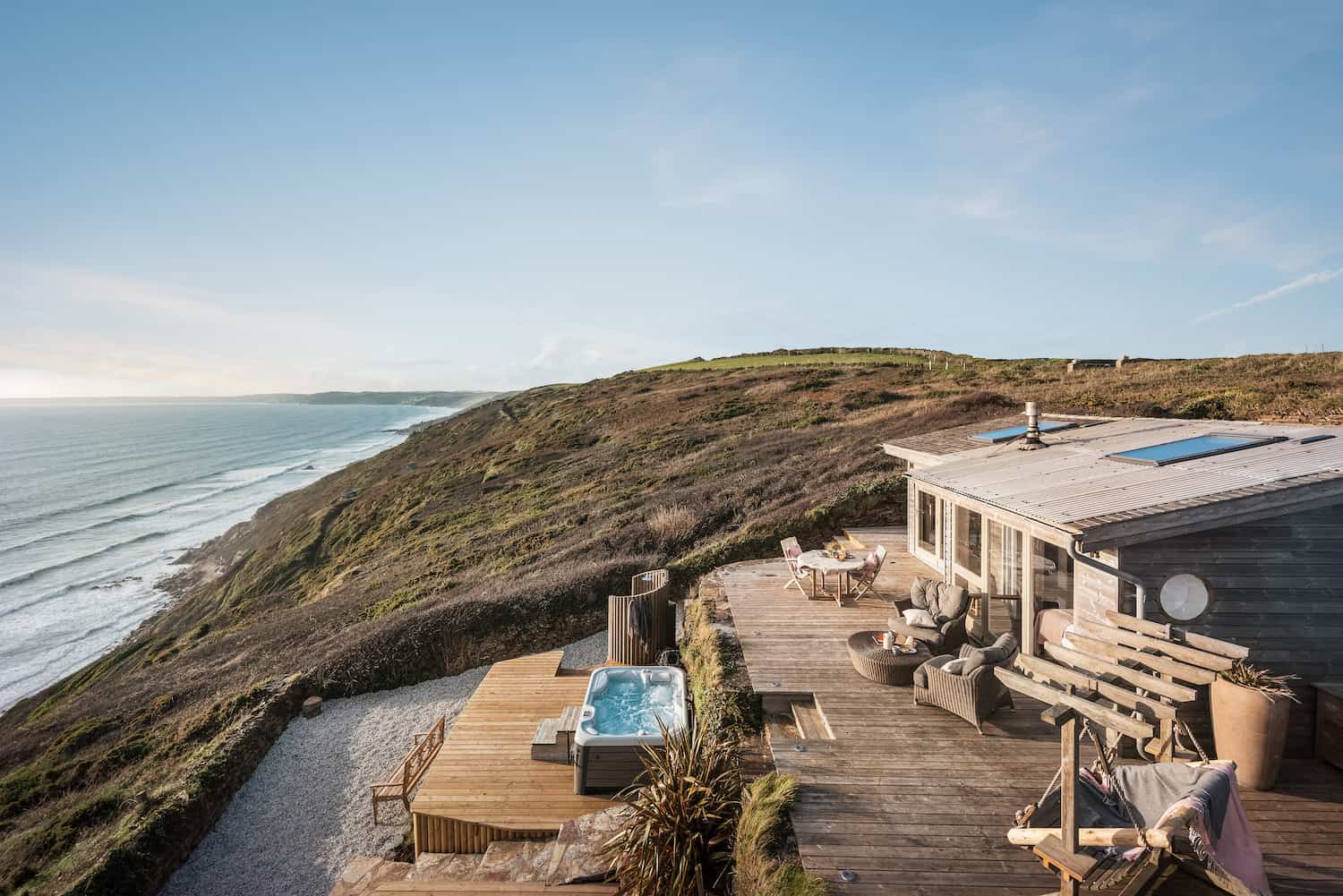 We are absolutely thrilled to have our small wood burning stove installed into this beautiful seaside cabin, which is perched on top of Tregonhawke cliff. The cabin provides guests with stunning panoramic views across Whitsand Bay, which is nestled amongst the cliffs on the south Cornish coast. At the bottom of the cliff, you can find a gorgeous soft-sanded beach that's hidden away from the flocks of tourists! Another Hobbit stove has been installed into a similar property called The Edge, which sits a bit further along the coastline.
Seaglass stands out as a truly special property on this spectacular stretch of coastline due to its enviable location and its spacious, open-plan design. Guests can use the large wooden decking for some morning yoga, or you can sit back and watch the waves lap against the shore from the tiered garden that's surrounded by beautiful moorland heather.
There's also a hot tub and a couple sun loungers if you want to truly unwind and let the day slowly pass you by! After spending a day on the golden sand and braving a dip in the sea, you can venture back to your secluded cabin and enjoy a steamy outdoor shower. Next, why not grab a soft towel and dash across the decking before huddling up in the warmth of our Hobbit stove, where you can enjoy a hot drink or a glass of wine in front of the fireplace.
The inside of the property is flooded with natural light, and the skylights also allow for some incredible stargazing. This can be enjoyed whilst you're wrapped up on the sofa, with a cosy fire gently crackling away in our small wood burning stove.
Images © Unique Homestays www.uniquehomestays.com
Seaglass also boasts a stylish, well-equipped kitchen, and there's plenty of space to enjoy some al fresco dining whilst you admire the endless stretch of coastline and the clear blue skies.
There's a diverse array of wildlife to look out for from the comfort of your seat, so keep an eye out for kestrels and buzzards scouring the cliffs, and reed buntings and skylarks can also be seen fluttering in and out amongst the grasses. You might catch gannets diving into the ocean, and seals, dolphins, and basking sharks can be spotted in the summer! A set of binoculars is included with your stay to help you catch a better glimpse of these amazing creatures.
The cabin is just as inviting in winter, when you can watch the moody dark clouds looming over the sea. Kick start your day by jumping in the hot tub on a chilly morning, and you can wind down in the evening in front of our Hobbit stove whilst the cabin takes a battering from any wind and rain. Make sure you visit the listing for Seaglass on Unique Homestays to read more about this incredible retreat and to book your stay today!
If you're wondering how you might be able to incorporate our small wood burning stove into the design of your structure, then make sure you take a look through the wide range of installation kits that we've designed! We've designed flue kits for log cabins, sheds, tiny homes, garden rooms and summer houses. If you're not sure what flue parts you will need, then please do not hesitate to contact us with some photos and measurements of your structure.
We also offer a bespoke flue consultancy service free of charge, and we are more than happy to advise on how you could install a Hobbit stove or a Little Range into your chosen structure. You can also enter your postcode into the search box on our authorised dealers page to find your nearest recommended stockist and installer.