Some Drifters
An absolutely breathtaking school bus conversion, that's found its home travelling across rugged deserts in the American wilderness!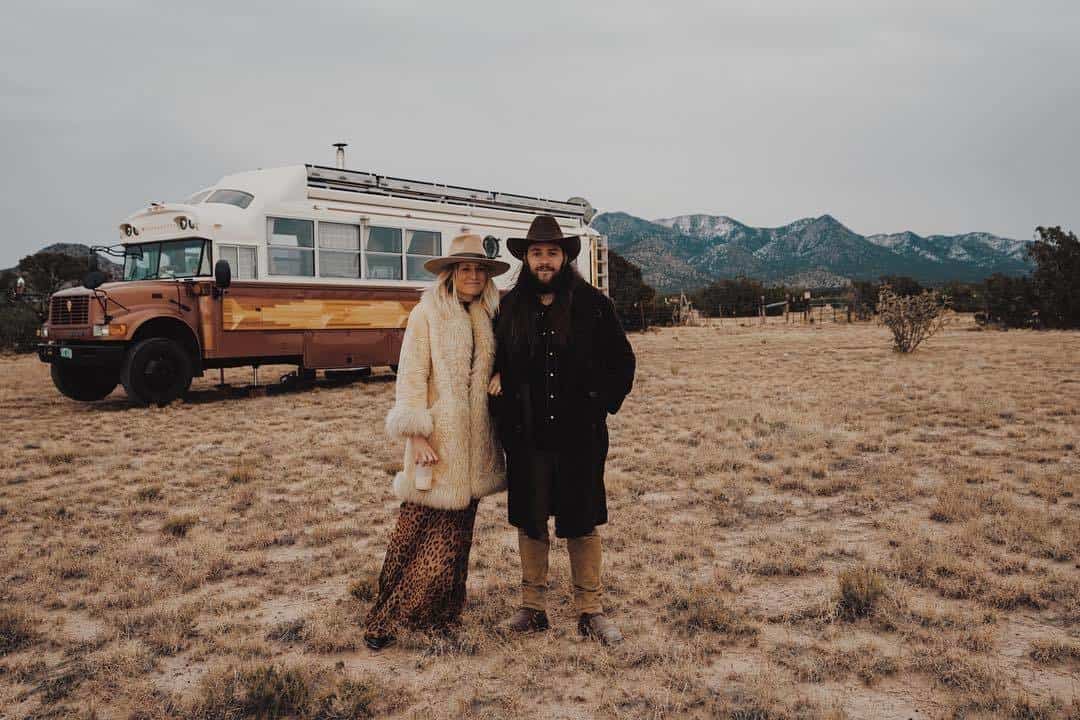 This incredible, one-of-a-kind school bus conversion is home to Jeffrey and Britt Osborne when they choose to live life on the road! The idea of living in a bus came to them when they were on a cross-country motorbike trip back in 2014, and we're incredibly proud to see that our small wood burning stove played a huge part in the design of their beautiful bus!
Britt also has a bohemian bridal business, Daughters of Simone, which you can check out here. To accommodate her work into this new lifestyle, it was important for the couple to have a spacious, multi-purpose living space. Jeffrey and Britt spent over two months just on researching and sketching the floor plans for the bus, but this resulted in an innovative design that incorporates flip up desks and drop down beds, so that every inch of the space was utilised!
The couple's first trip in the bus was all the way up to Newfoundland, the most easterly province of Canada, before journeying down to Maine in May 2019. Our small wood burner is the perfect addition to their life on the road, as it keeps the pair warm and cosy wherever they decide to go, whilst also providing them with a crucial source of off-grid heating!
The pair chose to have a brass gallery rail fitted to their tiny wood burner, which is incredibly useful for keeping things securely on the stovetop whilst they're travelling around! They also chose to equip their small wood stove with brass fittings, to match the rest of the stunning interior of the bus, and our tiny wood burner has even been fitted with our direct air intake system, to ensure there's a good supply of air entering the stove. This option is particularly well-suited to passive houses or other small, airtight spaces, and it's compulsory if you're going to be installing one of our small wood burning stoves into this type of structure in the USA.
Aside from our small log burner, the bus also boasts the ability to carry 200 gallons of fresh water, plenty of solar panels, a lithium battery, satellite internet, and a composting toilet, which makes this tiny home the perfect off-grid dwelling for a more nomadic lifestyle!
If you're wondering how you might be able to install one of our small wood burning stoves into your school bus, or another similar structure, then make sure you take a look at the two flue kits that we've design specifically for vans and RV's! You can check them out here, and you can also click here to browse a wide range of other flue kits that we've designed.
If you're still unsure as to what flue parts you might need, or if you think one of our flue kits might need adjusting to suit your installation, then please feel free to contact us, as we offer a bespoke flue consultancy service free of charge!
To see more of this incredible school bus, make sure you follow Some Drifters on Instagram to stay up-to-date with their all of their exciting plans!