Vanfolk Campervan Conversion
Our small wood burning stove has been installed in yet another amazing campervan conversion, by Vanfolk!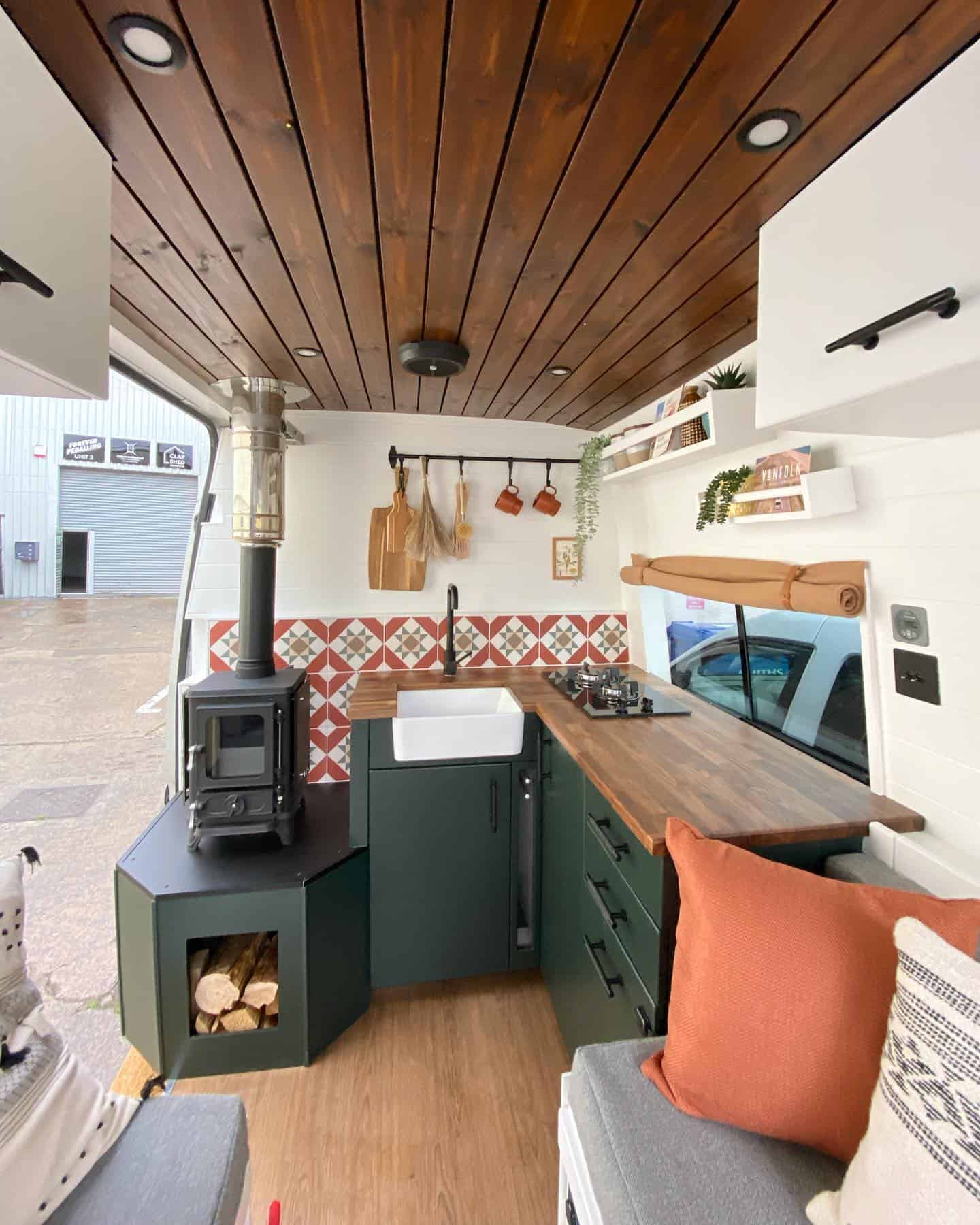 Our Hobbit stove has found its home in another recent project by Em and Simon, and this one might just be our favourite! The interior of the van has a beautiful Autumnal colour scheme. The deep forest green paint and an inspired log store makes it almost feel like you're lighting a little campfire out in the woods! Instead, you'll be safely tucked up inside this cosy home on wheels.
In fact, this is now the fifth van conversion completed by Em and Simon! The pair began converting vans during lockdown, but now they do it for a living under the Vanfolk alias. They've used a few Hobbit stoves in their projects – so make sure you check out Rae of Sunshine to find out more!
When you step inside the van, you'll be greeted with a dual gas hob, a baby Belfast sink, plenty of storage, and even a king-size bed! This beauty is absolutely packed full of nifty ideas and lots of camping luxuries for whenever you're off on the road. 
Wherever you decide to go on your adventures, our tiny wood burner will keep solo travellers, friends, guests and families warm and cosy. The Hobbit stove also makes the van Winter-ready, enabling it to be used all-year-round.
You can enjoy a brisk walk along the beach or a quick dip in the sea, knowing that you can hop back inside the van and warm up afterwards. You can visit the moors and camp out beneath the stars, or you could even just crash at your friend's house on their driveway, but in your own little den of comfort!
Here, the Hobbit stove has been equipped with our heat shield option, so that it can be installed in an especially tight space. Our small stove also comes with pre-drilled holes at the base of each foot, so that it can be easily bolted down to keep it secure whilst you're in transit. 
If you're wondering how you might be able to incorporate one of our tiny wood burners into the design of your project, then take a look through our van flue kits, or the other installation kits that we've designed, to see how it all works. You can also drop us an email with some photos and dimensions of your space, and we'll be able to advise you on what flue parts you will need, as we offer a bespoke flue consultancy service free of charge.
If you're really stuck, then we've written a simple article which explains how to install a small wood burner into a van, and there's a video too.
To see more of what Em and Simon get up to, then head over to the Vanfolk Facebook page to stay up-to-date with all of their recent projects!